News and Interviews
Good Minds Suggest: Meghan Daum's Favorite Books About Living on Your Own Terms (Or What Happens When You Don't)
Posted by Goodreads on April 7, 2015
Meghan Daum never wanted children, so she never had any. The Los Angeles Times opinion columnist is having it all—her way. She's written four books, most recently The Unspeakable: And Other Subjects of Discussion, and has now curated a book of essays, Selfish, Shallow, and Self-Absorbed: Sixteen Writers on the Decision Not to Have Kids, which includes contributions from Lionel Shriver, Geoff Dyer, Sigrid Nunez, and more. The book explores and defends why parenthood is not—and should not be—for everyone. Ultimately it's a powerful observation of what a fulfilled life can be, even in the face of cultural pressure.

Daum tells Goodreads, "As wary as I am of the phrase 'living on your own terms' (none of us, unless we're sociopaths, truly and totally lives according to our own rules), there's much to be said for asking ourselves if the choices we're making reflect our own dreams and desires or are simply what society tells us we should do."

She shares some of her favorite books about women and men who found happiness their own way.


How Georgia Became O'Keeffe: Lessons on the Art of Living by Karen Karbo
"The third installment in Karbo's 'Kick Ass Women' series, this biography of the legendary artist doubles as a primer on how to live an interesting, authentic life. Recalcitrant, reclusive, but also generous and endlessly curious, O'Keeffe's journey took her from the Wisconsin prairie of her youth to a passionate love affair in New York City to a solitary and fiercely productive life in the American southwest. Like Karbo's other kick-ass women, Katharine Hepburn, Coco Chanel, and Julia Child, O'Keeffe left a mighty legacy without ever having children."
The Last American Man by Elizabeth Gilbert
"Though she's best known for Eat, Pray, Love, the now iconic story of a women's spiritual journey through three countries, Elizabeth Gilbert is also a skilled reporter and a natural teller of other people's stories. Her 2002 book, The Last American Man, explores the unusual, solitary life of a man who left his suburban [world] to live as a bona fide mountain man in the Appalachians."
It's Not You: 27 (Wrong) Reasons You're Single by Sara Eckel
"In one of the most popular
New York Times
Modern Love columns of all time, Sara Eckel wrote about meeting her future husband at age 39 after eight years of not being in a relationship. During those years, she was constantly told that her singleness must be her own doing. The truth, she eventually realized, was much simpler: She just hadn't met the right guy yet. In It's Not You Eckel takes apart the most common pieces of bad advice given to singles and champions a more Zenlike and empowered approach to life."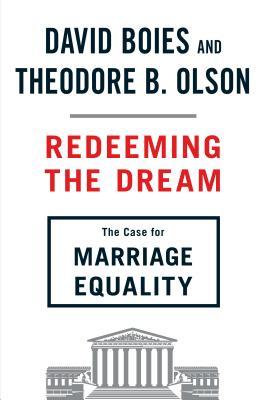 Redeeming the Dream: The Case for Marriage Equality by David Boies and Theodore Olson
"Lawyers David Boies and Ted Olson were once bitter adversaries and ideological opponents, battling each other through the courts in the case of Bush v. Gore. Years later they joined forces in the fight for marriage equality, eventually defeating Proposition 8 in the Supreme Court. This story is moving not just because it celebrates the lives and loves of those who stand up for their true selves, but also because it shows the power of putting aside ideological differences and fighting for what's right—in other words, working on your own terms."
Revolutionary Road by Richard Yates
"This novel, published in 1961, is the gold standard of cautionary tales about the false promises and hidden perils of suburban, nuclear family life. Before there were Don and Betty Draper there were Frank and April Wheeler, a couple who supposedly did everything right but still found themselves in the wrong lives. April, especially, is beset by 'the problem that has no name' (a phrase Betty Friedan would coin in 1963), and her descent into a depression that eventually leads to tragedy makes a strong case for thinking twice before you make big life decisions."
date
newest »
back to top