News and Interviews
Debut Author Snapshot: Claire Fuller
Posted by Goodreads on March 3, 2015
First-time novelist Claire Fuller plays with a disturbing premise in her debut effort, Our Endless Numbered Days. Kidnapped by her own father at age eight, young Peggy Hillcoat lives in isolation in the wilderness, believing that she and her survivalist dad are the only two people left alive in the world. They scrape together a meager existence, barely surviving their first winter, and persevere for many years. But one day Peggy comes across a pair of boots in the woods and begins to question the constructs that have limited her. Fuller's narrative alternates between Peggy's childhood and her emotional return to civilization at age 17, reuniting with her mother and meeting a brother she never knew she had.

Fuller, who started writing at age 40 after a career in marketing, is also a sculptor and artist. The Winchester-based writer shares some of the inspiration for Our Endless Numbered Days.


"I came across this abandoned cabin on a visit to California. I was a little bit obsessed with cabins, and my husband and I even stayed in several during our trip, but they were rather more luxurious than this one."
Goodreads: Tell us about your inspiration for Peggy and her unusual circumstances.

Claire Fuller: Peggy's story came from a real news report about Robin van Helsum, a Dutch teenager who appeared in Berlin in 2011, saying that he had been living in the forest with his father for the previous five years. It turned out that van Helsum was a runaway—a sad story in itself—but it was the thoughts about how he and his father [might have] survived for that long in the forest, what calamity took them there, and why did van Helsum return to civilization when he did that intrigued me.

GR: By 17, Peggy has spent more years of her life in the wilderness than in civilization. How did you prepare and get into the mind-set of a character experiencing a life so far outside the norm?

CF: I did a lot of research. I read many books about extreme survival, some of which were fiction but also quite a few real-life experiences, such as Natascha Kampusch's 3,096 Days and Piers Paul Read's Alive: The Story of the Andes Survivors.

I also did a lot of practical research, including hiking through the woods, mushroom-gathering trips, studying maps, and taking pictures of any cabins and sheds I came across. And I spent a lot of time watching videos about all manner of things, from how to make a piano to how to light a fire with a steel and flint and even old episodes of the 1970s English TV series Survivors.


"And then there was research for the fun of it. One day my daughter dressed up as Peggy, and we went out into the woods together to gather kindling and take pictures."
A lot of my time was spent thinking as well as writing, and considering all details of each object that Peggy and her father had with them. For example, what will happen when they can't replace their toothbrushes? Eventually all the bristles will fall out and only the plastic stick will be left, and if they can't brush their teeth for nine years, there are going to be some dental consequences! Or, what will happen when Peggy outgrows her clothes? She can make some more from animal skins, but how will they catch the animals, how will they cure the skins, and what will they sew them together with? Almost every decision had a consequence: How many buckets, how many knives, how far away is the water source, can they grow food, do they have a fishing rod, what about spare hooks, do they have a saw, how about an ax? And many more.

GR: What modern comforts would you miss most if forced to live in a primitive cabin in the woods?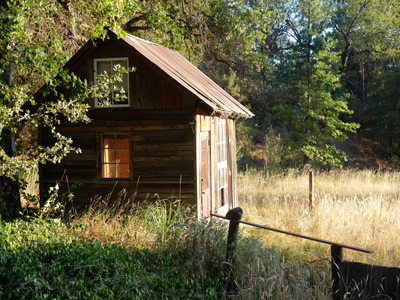 "Just before I took these pictures, we accidentally locked ourselves out of the remote cabin we had rented and had to hike to our nearest neighbor to use their phone. It was only on the walk back, to wait for the owner to arrive with the spare key, that we noticed the bear droppings..."
CF: That's a really good question! I think at first I would miss being able to wash, but apparently after a while you don't notice your smell. I would miss pencils, paper, and music—not being able to write or draw would be very difficult, but perhaps I could manage with some tree bark, a stick of homemade charcoal, and whistling. And although these probably can't be classed modern comforts, Peggy misses butter and cheese, and I have to admit that these two items come straight from the list of things I would miss. Would I survive without cheese? Of course I would, but I wouldn't be very happy. Peggy also misses Christmas dinner and trifle, and these are also two of my great loves, but again, hardly modern comforts. The one thing I would find very hard to do without is central heating. I hate being cold. When I'm writing, I'm often huddled in a blanket with a hot-water bottle. I'm afraid one stove in the corner of a cabin just isn't going to do it for me.

GR: What's next for you as a writer?

CF: I've just finished the first draft of my second novel. This is also about a family pushed to extremes, but it is very different from Our Endless Numbered Days, although nature is still a big element. And I'll be continuing to write short stories and weekly pieces of flash fiction.



Showing 1-28 of 28
(28 new)
date
newest »
back to top