Book Giveaway For Among Thieves (Tales of the Kin, #1)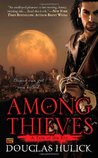 Among Thieves (Tales of the Kin, #1)
by
Release date: Apr 05, 2011
Drothe has been a member of the Kin for years, rubbing elbows with thieves and murderers in the employ of a crime lord while smuggling relics on the s
...more
Format: Print book
Availability: 30 copies available, 1019 people requesting
Giveaway dates: Feb 07 - Feb 21, 2011
Countries available: United States and United States
Douglas Hulick is author of "Among Thieves", the first book in the "Tales of the Kin" fantasy-adventure series. He is busy at work on the as-yet untitled second book in the series, with a third to follow.

When not writing, Douglas is a stay-at-home dad (or should that be: when not busy being dad, Douglas is an as-time-permits-writer?). Either way, he makes his home in the upper Midwest. He has a B.
...more
More about Douglas Hulick...
Winners
Ilana, Ellen Cutter, Blaze , Enjee, Ryan, K.A. Stewart, Carol, John, Tamara, Donald, Caroline, Shiloh, Mary, David, Andy, Brandy *Ahviel*, Chelsea, Lindsay, Alex, Jessie (Ageless Pages Reviews), Sillylittlefishey, Tarrant Smith, Peggy Thomas, Aimee, Victor Tu, Roni, Ryan (miyu), Brian Rashap, Lily (WhoLockian)
1,019 people entered this giveaway