Book Giveaway For Beautiful Invention: A Novel of Hedy Lamarr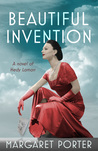 Format: Print book
Availability: 5 copies available, 1744 people requesting
Giveaway dates: Sep 12 - Sep 22, 2018
Countries available: U.S.
Because I was born into a family of readers and writers and scholars and travelers, there's no mystery about how or why I found my profession. From a very early age I invented characters and composed scenes and stories in my head. At about 10 years old I first saw my own words printed--in the grammar school newsletter that I co-founded, typed, and published. Around the same time I decided to comb
...more
More about Margaret Porter...
Winners
Cheryl, Cindy, Jennifer, Lorna Gundaker, Brenda
1,744 people entered this giveaway