Book Giveaway For Once a Scoundrel (Rogues Redeemed, #3)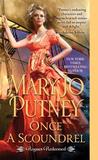 Once a Scoundrel (Rogues Redeemed, #3)
by
Release date: Sep 25, 2018
ENTER FOR YOUR CHANCE TO WIN A COPY OF ONCE A SCOUNDREL FROM MARY JO PUTNEY!

The son of a proud naval dynasty, Gabriel Hawkins was born to command the
...more
Format: Print book
Availability: 25 copies available, 1650 people requesting
Giveaway dates: Aug 02 - Aug 16, 2018
Countries available: U.S.
She writes young adult fiction as M.J. Putney.

Mary Jo Putney was born in Upstate New York with a reading addiction, a condition for which there is no known cure. After earning degrees in English Literature and Industrial Design at Syracuse University, she did various forms of design work in California and England before inertia took over in Baltimore, Maryland, where she has lived very comfortably
...more
More about Mary Jo Putney...
Winners
Kylene, PJ, Heather, Cynthia Villarreal Ortiz, Betsy, Allison Hanley, Ashley Velez, Carmen, Michelle Pickett, Karen Conroy, Tracey, Kendra, Bookworm Baley, Cosette, Diana, Cindy Marciel, Escape_in_a_Book, Krystal, Lesa Neace, Kathy Simas, Stephanie, Mel, Betsy, Molly Schaefer, Rachael D
1,650 people entered this giveaway