Book Giveaway For You Were Always Mine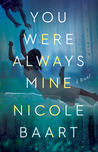 You Were Always Mine
by
Release date: Oct 16, 2018
Praise for Little Broken Things:

"Steeped in menace, Baart's latest is a race-to-the-finish family drama."
- People

*Win a galley*

Format: Print book
Availability: 45 copies available, 3179 people requesting
Giveaway dates: Jul 02 - Jul 16, 2018
Countries available: U.S.
Nicole Baart is the mother of five children from four different countries. The cofounder of a non-profit organization, One Body One Hope, she lives in a small town in Iowa. She is the author of nine novels, including LITTLE BROKEN THINGS and the upcoming YOU WERE ALWAYS MINE (10/16/18). Nicole is a proud Tall Poppy Writer and a firm believer that we are, and always will be, better together. Find o
...more
More about Nicole Baart...
Winners
Heather, David, Raquel Wood, Carol Boyer, Julie, Tara John, Dan, Kimberly Mussell, *JEN the booknerd*, Michelle Lovercheck, Caroline, Kari Kowalski, Pam Mooney, Reesa, Chelsea, Emily, Lisa, Brie McGirr Proofreading , Shelly, Molly, Robin, E, Elena L. , Rumeur, Merrilee Griffith, Shelby Kollin, Mary Robinson, Tonnie, Beverly Turner, Donna, Amy, Lindsey Eom, T. Rosado, Jennifer, Angie, Chelsea Menscer, Kim, Gaylene Peyatt, Joanne, Susie, Stacy Kingsley, Monet Whirl, Kristy Epperson, Natalya , L
3,179 people entered this giveaway