Book Giveaway For The Concubine's Gift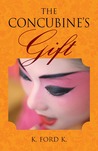 The Concubine's Gift
by
K. Ford K.
(Goodreads Author)
Bernice Babbitt, a sexually inhibited, thirty-nine-year-old woman, leads a peaceful life in the tiny resort town of Valentine, Nevada. Living only two
...more
Format: Print book
Availability: 1 copy available, 687 people requesting
Giveaway dates: Jun 10 - Jun 29, 2012
Countries available: US, CA, and GB more
I became a storyteller by accident. It all began in Mexico where I attended university and where I learned to accept the supernatural as a normal part of life. From the revered opinions of the local witch, to the preparation of meals for dead grandmothers, I learned to see the world through different eyes and I came to understand that things are not always what they seem.

Later, on my way to attend
...more
More about K. Ford K....
687 people entered this giveaway