Goodreads helps you keep track of books you want to read.
Start by marking "The Trouble with Hating You" as Want to Read:
The Trouble with Hating You
A laugh-out-loud romantic comedy debut about first impressions, second chances, and finding the love of your life in the most unexpected way.
Liya Thakkar is a successful biochemical engineer, takeout enthusiast, and happily single woman. The moment she realizes her parents' latest dinner party is a setup with the man they want her to marry, she's out the back door i
...more
Kindle Edition
,
352 pages
Published May 12th 2020 by Forever
Sajni Patel was born in vibrant India and raised in the heart of Texas, surrounded by a lot of delicious food and plenty of diversity. She draws on her personal experiences, cultural expectations, and Southern flair to create worlds that center on strong Indian women. Once an MMA fighter, she's now all about puppies and rainbows and tortured love stories. She currently lives in Austin where she no
...more
Articles featuring this book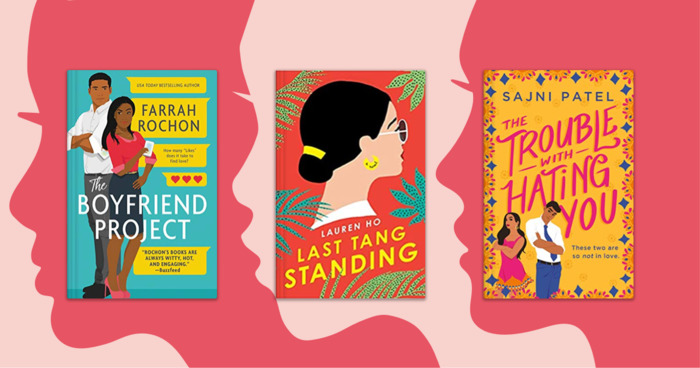 Finding the perfect book at the perfect moment can feel a lot like falling in love. Both experiences bring up those "I can't take my eyes off of...
"Where are we?" she asked when I pulled into a parking lot.

"The park."

"Isn't it dangerous at night?"

"Not here. Come on." I pulled her out of her seat and grabbed a blanket from the trunk before trekking through the soft grass.

"You always keep a blanket in your car?"

"Yeah, for emergencies. Never know when you might need it. Food, water, first-aid kit, too."

"Oh!" she grunted and caught my arm as one of her heels pierced the soft dirt and sank.

"You should take those off."

"And walk around barefoot? Hello? Ever heard of hookworms and tetanus?"

"Ever heard of snapping your ankles as you fall flat on your face in the dark?" I asked as I squatted in front of her and slipped her foot out of the high heels.

"What are you doing?" she gasped, tumbling forward and grabbing onto my shoulders for support.

"Removing your obstacles."

She landed a bare foot on the grass as I undid the other shoe. "So now I get tetanus?"

I looked up at her, my hands lightly stroking her ankles up to her calves. "You worry too much."

"It's a real risk. Ask Preeti."

I stood slowly, moving up her body, and hovered above her.

"How…how far are we walking?" she asked.

"To the river."

"In the dark?"

I nodded and handed her the shoes.

"Took these off and you won't even carry them?"

"I'll carry them," I replied, swooped down, and threw her over the blanket on my shoulder.

Liya yelped. "Put me down!"

"So you can get tetanus?" I asked and walked toward the river.

She laughed. "I hate you!"

"You love it."

She slapped my butt and then poked her pointy elbows into my shoulder as she arched her back. "Enjoying the view of my backside from over there?"

I slid my hand up the back of her thighs and tugged her dress down to keep her covered.

"This isn't so bad," she said.

"Oh, yeah?"

"Yeah." She slapped my butt again. "Giddyap!"

"All right. You asked for it."

Her next words were swallowed up in a scream as I took off at a full sprint.

She gripped my shirt, clutching for my waist, as the breeze broke around us. I ran the short distance to the riverside in no time, slowing only when the moonlit gleam on the water's surface appeared.

I placed Liya on the grass, but she swayed away. I grabbed her by the waist to steady her and chuckled. "Are you okay?"

"You try doing that upside down."
— 3 likes
"She inhaled the steam rising from the coffee without touching it. "I'm very picky about my coffee."

"White chocolate peppermint latte, half skim, half soy, no whip, extra white chocolate sauce on the bottom and a drizzle on top."

Her gaze shot up, watching me over the rim of the cup with a hint of incredulity. "How'd you know?"

I shrugged. "Maybe we like the same drinks." Or maybe Wendy had told me the other day when she balanced three cups of coffee in the elevator.

Liya clamped her mouth shut but covered the warm cup with her petite hands. Her glossy red nails clicked against the sturdy paper cup, drowning out the muted sounds of others in the hallway beyond the open door.

"It's okay," I assured her.

"I don't think you did anything to the coffee."

"I mean it's okay to smile because someone brought you your picky-ass latte."

She took a sip. "We're not friends, you know?"

"No one forgets being told they're not friends," I said teasingly, knowing full well she didn't want to be friends but yet, here we were.

A smile crept across her lips, even though she tried hard to stop it."
— 2 likes
More quotes…