Goodreads helps you keep track of books you want to read.
Start by marking "The Third Bear" as Want to Read: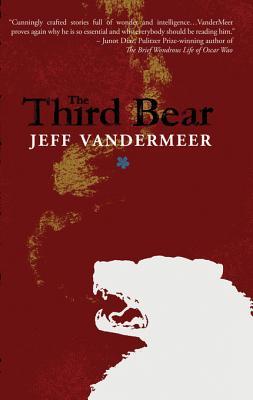 The Third Bear
The award-winning short fictions in this collection highlight the voice of an inventive contemporary fantasist who has been compared by critics to Borges, Nabokov, and Kafka. In addition to highlights such as The Situation, in which a beleaguered office worker creates a child-swallowing manta ray to be used for educational purposes and Errata, which follows an oddly famili
...more
Published July 1st 2010 by Tachyon Publications (first published January 1st 2010)
Jeff VanderMeer's new novel is Borne, set for publication in late April of 2017. His most recent fiction is the NYT-bestselling Southern Reach trilogy (Annihilation, Authority, and Acceptance), all released in 2014. The series won the Shirley Jackson Award and the Nebula Award, was shortlisted for several others, and has been acquired by publishers in 32 other countries. Paramount Pictures/Scott R
...more
More about Jeff VanderMeer...
"My Manager forced me to put my beetle in my own ear, a clear waste and an act that gave me nightmares: of a burning city through which giant carnivorous lizards prowled, eating survivors off of balconies. In one particularly vivid moment, I stood on a ledge as the jaws closed in, heat-swept, and tinged with the smell of rotting flesh. Beetles intended for the tough, tight minds of children should not be used by adults. We still remember a kinder, gentler world."
— 7 likes
"If making a doppelganger using the priests' emerald powder, the dulcimer should be played during the mixing; otherwise, your monster may coalesce with a vestigial tale or tail. It is also known that playing the dulcimer after dinner increases the chance of pleasant conversation, if accompanied by wine and a nice dessert."
— 2 likes
More quotes…