Goodreads helps you keep track of books you want to read.
Start by marking "Yuganta: The End of an Epoch" as Want to Read: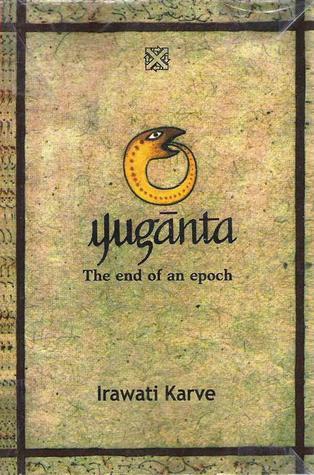 Yuganta: The End of an Epoch
Yuganta studies the principal, mythical-heroic figures of the Mahabharata from historical, anthropological and secular perspectives. The usually venerated characters of this ancient Indian epic are here subjected to a rational enquiry that places them in context, unravels their hopes and fears, and imbues them with wholly human motives, thereby making their stories relevan
...more
Published 2008 by Disha Books (first published 1967)
Karve received a master's degree in sociology from Mumbai University in 1928 and a doctorate in anthropology from a university in Berlin, Germany in 1930.
Karve served for many years as the head of the Department of Sociology and Anthropology at Deccan College, Pune (University of Pune).
She presided over the Anthropology Division of the National Science Congress held in New Delhi in 1947.
She wrote
...more
More about Irawati Karve...
"That values are always relative to time and place is the stand taken by Indian philosophy. And even their acceptance might be more theoretical than practical. For example, genocide is now recognized as an international crime and yet it is still committed and connived at. The great saint Tukaram admonished that 'Slaves be treated as kindly as one's own children'. A modern man instead of admiring the compassion behind this statement would be indignantly pointing out how Tukaram condoned a society which allowed a man to possess slaves!"
— 0 likes
"पुढल्या जन्मी पांचातला थोरला भाऊ हो, भीमा!"
— 0 likes
More quotes…