Goodreads helps you keep track of books you want to read.
Start by marking "Pawn of Prophecy (The Belgariad, #1)" as Want to Read: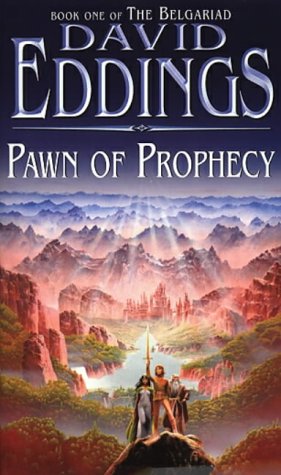 A magnificent epic set against a history of seven thousand years of the struggles of Gods and Kings and men - of strange lands and events - of fate and a prophecy that must be fulfilled!

THE BELGARIAD

Long ago, so the Storyteller claimed, the evil God Torak sought dominion and drove men and Gods to war. But Belgarath the Sorcerer led men to reclaim the Orb that protected men
...more

David Eddings was an American author who wrote several best-selling series of epic fantasy novels. David Eddings' wife, Leigh Eddings, was an uncredited co-author on many of his early books, but he had later acknowledged that she contributed to them all.

David Eddings' first books (which were general fiction) sold moderately well. He later switched to writing epic fantasy, a field in which he achie
...more
More about David Eddings...
Other Books in the Series
"We're living in momentous times, Garion. The events of a thousand years and more have all focused on these very days. The world, I'm told, is like that. Centuries pass when nothing happens, and then in a few short years events of such tremendous importance take place that the world is never the same again."
I think that if I had my choice, I'd prefer one of those quiet centuries," Garion said glumly.
Oh, no," Silk said, his lips drawing back in a ferretlike grin. "Now's the time to be alive - to see it all happen, to be a part of it. That makes the blood race, and each breath is an adventure."
— 105 likes
"Could you penetrate this palace, Prince Kheldar?" King Anheg challenged.
"I already have, your Majesty," Silk said modestly, "a dozen times or more."
Anheg looked at Rhodar with one raised eyebrow.
Rhodar coughed slightly. "It was some time ago, Anheg. Nothing serious. I was just curious about something, that's all."
"All you had to do was ask," Anheg said in a slightly injured tone.
"I didn't want to bother you," Rhodar said with a shrug. "Besides, it's more fun to do it the other way."
— 62 likes
More quotes…