Goodreads helps you keep track of books you want to read.
Start by marking "The Etched City" as Want to Read:
The Etched City
Gwynn and Raule are rebels on the run, with little in common except being on the losing side of a hard-fought war. Gwynn is a gunslinger from the north, a loner, a survivor . . . a killer. Raule is a wandering surgeon, a healer who still believes in just--and lost--causes. Bound by a desire to escape the ghosts of the past, together they flee to the teeming city of Ashamoi
...more
Published November 23rd 2004 by Spectra (first published 2003)
I'm a spec fic writer and artist. Wearing either hat my work tends towards the strange. Sometimes it's dark and decadent strange, sometimes more whimsical. My influences include everything I've ever read, watched, listened to, or eaten.

If you're interested in my art, I have an Etsy shop:
http://www.etsy.com/shop/KJBishopArt


...more
Related Articles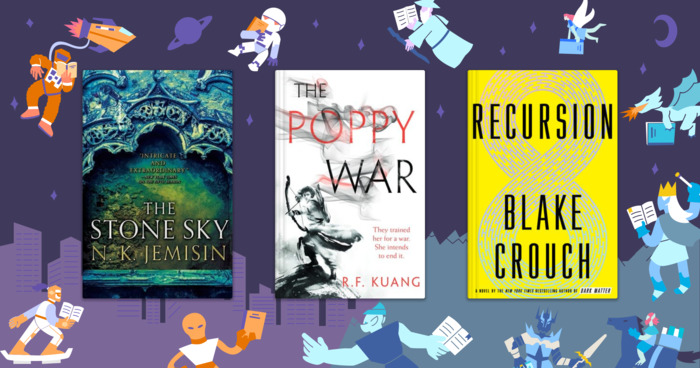 Myths and mayhem, the fantastical and the scientifically plausible, these are readers' most popular sci-fi and fantasy novels published in the ...
"Somewhere there are gardens where peacocks sing like nightingales, somewhere there are caravans of separated lovers traveling to meet each other; there are ruby fires on distant mountains, and blue comets that come in spring like sapphires in the black sky. If this is not so, meet me in the shameful yard, and we will plant a gallows tree, and swing like sad pendulums, never once touching."
— 34 likes
"Art is the conscious making of numinous phenomena. Many objects are just objects - inert, merely utilitarian. Many events are inconsequential, too banal to add anything to our experience of life. This is unfortunate, as one cannot grow except by having one's spirit greatly stirred; and the spirit cannot be greatly stirred by spiritless things. Much of our very life is dead. For primitive man, this was not so. He made his own possessions, and shaped and decorated them with the aim of making them not merely useful, but powerful. He tried to infuse his weapons with the nature of the tiger, his cooking pots with the life of growing things; and he succeeded. Appearance, material, history, context, rarity - perhaps rarity most of all - combine to create, magically, the quality of soul. But we modern demiurges are prolific copyists; we give few things souls of their own. Locomotives, with their close resemblance to beasts, may be the great exception; but in nearly all else with which today's poor humans are filling the world, I see a quelling of the numinous, an ashening of the fire of life. We are making an inert world; we are building a cemetery. And on the tombs, to remind us of life, we lay wreaths of poetry and bouquets of painting. You expressed this very condition, when you said that art beautifies life. No longer integral, the numinous has become optional, a luxury - one of which you, my dear friend, are fond, however unconsciously. You adorn yourself with the same instincts as the primitive who puts a frightening mask of clay and feathers on his head, and you comport yourself in an uncommonly calculated way - as do I. We thus make numinous phenomena of ourselves. No mean trick - to make oneself a rarity, in this overpopulated age."
— 14 likes
More quotes…