Goodreads helps you keep track of books you want to read.
Start by marking "The Truth About Stacey (The Baby-Sitters Club, #3)" as Want to Read:
The Truth About Stacey
The truth about Stacey is that she has diabetes. Nobody knows... except her friends in the Baby-sitters Club.

But even they don't know the real truth about Stacey. Stacey's problem is her parents. They won't admit she has the disease, and they drag her to practically every doctor in America!

Seeing so many doctors made Stacey lose one friend, and she won't let it happen agai
...more
Published September 1st 1995 by Scholastic Inc. (first published October 28th 1986)
Ann Matthews Martin was born on August 12, 1955. She grew up in Princeton, New Jersey, with her parents and her younger sister, Jane. After graduating from Smith College, Ann became a teacher and then an editor of children's books. She's now a full-time writer.

Ann gets the ideas for her books from many different places. Some are based on personal experiences, while others are based on childhood me
...more
Other books in the series
Related Articles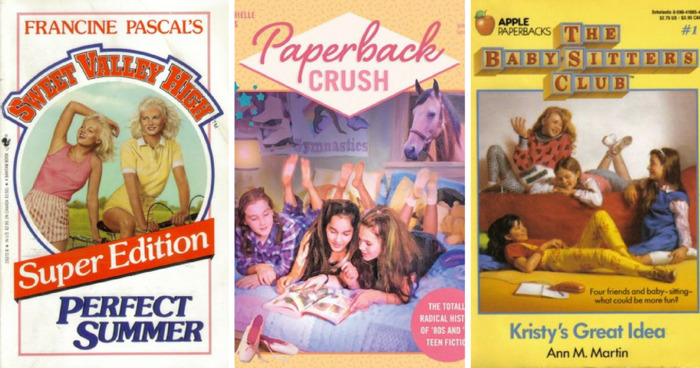 Gabrielle Moss has charted the history of '80s and '90s YA novels, from The Baby-Sitters Club to Wildfire, in Paperback Crush: The...
"At the beginning of my illness, hospital visits couldn't be avoided. I needed tests, I had to have my diet and insulin regulated, and once I fainted at school and went into insulin shock and the ambulance came and took me to St. Luke's. If one of my friends got that sick, I would have called her in the hospital and sent her cards and visited her when she went home. But not Laine. She seemed almost afraid of me (although she tried to cover up by acting cool and snooty). And my other friends did what Laine did, because she was the leader. Their leader. My leader. And we were her followers. The school year grew worse and worse. I fainted twice more at school, each time causing a big scene and getting lots of attention, and every week, it seemed, I missed at least one morning while Mom and Dad took me to some doctor or clinic or other. Laine called me a baby, a liar, a hypochondriac, and a bunch of other things that indicated she thought my parents and I were making a big deal over nothing. But if she really thought it was nothing, why wouldn't she come over to my apartment anymore? Why wouldn't she share sandwiches or go to the movies with me? And why did she move her desk away from mine in school? I was confused and unhappy and sick, and I didn't have any friends left, thanks to Laine. I hated Laine."
— 3 likes
More quotes…