Goodreads helps you keep track of books you want to read.
Start by marking "Peredur, the Son of Evrawc" as Want to Read: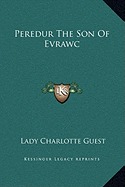 Peredur, the Son of Evrawc
Mother, said Peredur, "what are those yonder?" "They are angels, my son," said she. "By my faith," said Peredur, "I will go and become an angel with them." And Peredur went to the road, and met them. "Tell me, good soul," said Owain, "sawest thou a knight pass this way, either to-day or yesterday?" "I know not," answered he, "what a knight is."
Published (first published June 1st 2004)
Charlotte Guest (nee Bertie) was the daughter of Albemarle Bertie, 9th Earl of Lindsey and his second wife Charlotte Susanna Elizabeth Layard. She married John Josiah Guest, a significantly-older Welsh industrialist and politician and moved to Merthyr Tydfil. The couple had 10 children.

Later known as Lady Charlotte Schreiber, she was an English businesswoman and translator. An important figure in
...more
More about Charlotte Guest...