Goodreads helps you keep track of books you want to read.
Start by marking "Women Food and God" as Want to Read: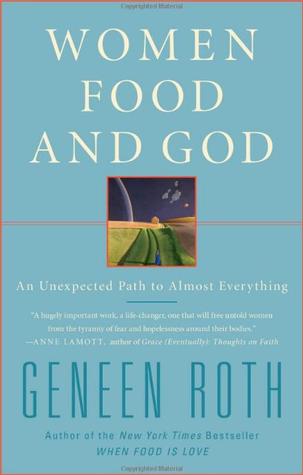 Women Food and God
Millions of us are locked into an unwinnable weight game. Combine the inefficacy of dieting with the lack of spiritual nourishment and we have generations of mad, self-loathing women. Readers will be struck by the author's intelligence, sensitivity, and humour as she traces the path of overeating.
Published January 24th 2010 by Simon & Schuster Audio (first published May 11th 2009)
Geneen Roth's pioneering books were among the first to link compulsive eating and perpetual dieting with deeply personal and spiritual issues that go far beyond food, weight and body image. She believes that we eat the way we live, and that our relationship to food, money, love is an exact reflection of our deepest held beliefs about ourselves and the amount of joy, abundance, pain, scarcity, we b
...more
"You are not a mistake. You are not a problem to be solved. But you won't discover this until you are willing to stop banging your head against the wall of shaming and caging and fearing yourself. (p. 84)"
— 306 likes
"When you believe without knowing you believe that you are damaged at your core, you also believe that you need to hide that damage for anyone to love you. You walk around ashamed of being yourself. You try hard to make up for the way you look, walk, feel. Decisions are agonizing because if you, the person who makes the decision, is damaged, then how can you trust what you decide? You doubt your own impulses so you become masterful at looking outside yourself for comfort. You become an expert at finding experts and programs, at striving and trying hard and then harder to change yourself, but this process only reaffirms what you already believe about yourself -- that your needs and choices cannot be trusted, and left to your own devices you are out of control (p.82-83)"
— 206 likes
More quotes…