Goodreads helps you keep track of books you want to read.
Start by marking "Butterfly Swords (Tang Dynasty, #1)" as Want to Read:
Butterfly Swords
During China's infamous Tang Dynasty, a time awash with luxury yet littered with deadly intrigues and fallen royalty, betrayed Princess Ai Li flees before her wedding.

Miles from home, with only her delicate butterfly swords for defense, she enlists the reluctant protection of a blue-eyed warrior.

Battle-scarred, embittered Ryam has always held his own life at cheap value.
...more
Mass Market Paperback
,
288 pages
Published October 1st 2010 by Harlequin
USA TODAY Bestselling author Jeannie Lin grew up fascinated with stories of Western epic fantasy and Eastern martial arts adventures. When her best friend introduced her to romance novels in middle school, the stage was set. Jeannie started writing her first romance while working as a high school science teacher in South Central Los Angeles. After four years of trying to break into publishing with
...more
Other books in the series
Related Articles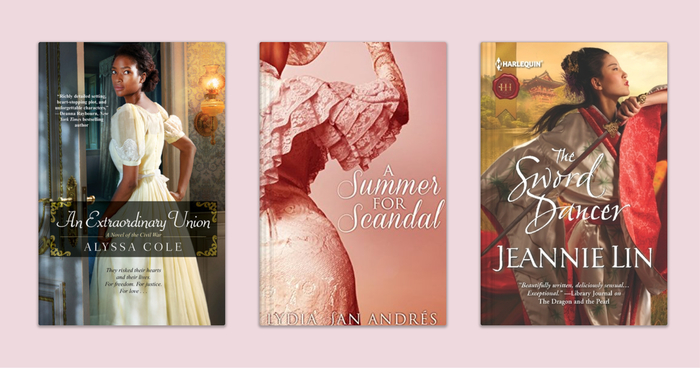 Regular readers of romance know that the genre is currently chock-full of fresh plotlines and heroines who save themselves (and sometimes the...
"What else do you want to know?' he asked. Possessed by morbid curiosity, her eyes darted to the scar that cut just over his ear. She'd found it shortly after they met, while he lay unconscious in the grass. He didn't need to ask what had caught her attention. 'I got that in a fight against imperial soldiers. Ask me why.' She shook her head, unable to bring herself to do it. The cocoon of warmth that had enveloped the entire afternoon unwound itself in an instant. 'Are you having second thoughts about being here with me?' He planted a hand into the grass, edging closer. 'No. I trust you.' He was giving her all the time in the world to shove him away, to rise, to flee. Her heartbeat quickened as she watched him. Moving ever so slowly, he braced an arm on either side of her, his fingers sinking into the moss. 'I asked you to come with me.' Despite her words, she dug her heels into the ground and inched backwards. 'I feel safe with you.' 'I can see that.' He affected a lazy smile as she retreated until her back pressed against the knotted roots that crawled along the ground. His boldness was so unexpected, so exciting. She held her breath and waited. Her pulse jumped when he reached for her. She'd been imagining this moment ever since their first duel and wondering whether it would take another swordfight for him to come near her again. His fingers curled gently against the back of her neck, giving her one last chance to escape. Then he lowered his mouth and kissed her.

It was as natural as breathing to wrap his arms around her and lower her to the ground. He settled his weight against her hips. The perfume of her skin mixed with the damp scent of the moss beneath them. At some point, her sense of propriety would win over. Until then he let his body flood with raw desire. It felt good to kiss her the way he wanted to. It felt damn good. He slipped his tongue past her lips to where she was warm and smooth and inviting. Her hands clutched at his shirt as she returned his kiss. A muted sound escaped from her throat. He swallowed her cry, using his hands to circle her wrists: rough enough to make her breath catch, gentle enough to have her opening her knees, cradling his hips with her long legs. He stroked himself against her, already hard beyond belief. He groaned when she responded, instinctively pressing closer. 'I need to see you,' he said. The sash around her waist fell aside in two urgent tugs while his other hand stole beneath her tunic. She gasped when his fingers brushed the swath of cloth at her breasts. The faint, helpless sound nearly lifted him out of the haze of desire. He didn't want to think too hard about this. Not yet. He felt for the edge of the binding. 'In back.' She spoke in barely a whisper, a sigh on his soul. She peered up at him, her face in shadow as he parted her tunic. She watched him in much the same way she had when they had first met: curious, fearless, her eyes a swirl of green and gold. He pulled at the tight cloth until Ailey's warm, feminine flesh swelled into his hands. He soothed his palms over the cruel welts left by the bindings. She bit down against her lip as blood rushed back into the tortured flesh. With great care, he stroked her nipples, teasing them until they grew tight beneath his roughened fingertips. God's breath. Perfect. He wanted his mouth on her and still it wouldn't be enough. Her heart beat out a chaotic rhythm. His own echoed the same restless pulse. 'I knew it would be like this.' His words came out hoarse with passion. At that moment he'd have given his soul to have her. But somewhere in his thick skull, he knew he had a beautiful, vulnerable girl who trusted him pressed against the bare earth. He sensed the hitch in her breathing and how her fingers dug nervously into his shoulders, even as her hips arched into him. He ran his thumb gently over the reddened mark that ran just below her collarbone and felt her shiver beneath him."
— 2 likes
"None of us deserves the things we have been given. We can only spend the rest of our days earning them."
— 2 likes
More quotes…