Goodreads helps you keep track of books you want to read.
Start by marking "A Treasury Of Great Mysteries" as Want to Read: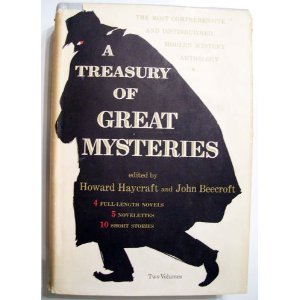 A Treasury Of Great Mysteries
Volumes 1 and 2

Volume 1:
Murder in the Calais Coach (Murder on the Orient Express)-Agatha Christie
"The Case of the Crimson Kiss"-Erle Stanley Gardner
"The Treasure Hunt"-Edgar Wallace
"Maigret's Christmas"-Georges Simenon
"Puzzle for Poppy"-Patrick Quentin
"The Secret"-Mary Roberts Rinehart
"The Incautious Burglar"-John Dickson Carr
"The Lamp of God"-Ellery Queen
"The Case of the
...more
A publisher, editor, critic and anthologist who wrote one of the first serious books of criticism of the mystery/detective genre, Murder for Pleasure: The Life and times of the Detective Story , still in print and considered a classic. He also edited a number of interesting and important anthologies.
More about Howard Haycraft