Goodreads helps you keep track of books you want to read.
Start by marking "The Conquest of Gaul" as Want to Read: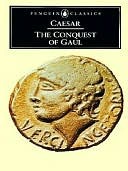 The Conquest of Gaul
The enemy were overpowered and took to flight. The Romans pursued as far as their strength enabled them to run' Between 58 and 50 BC Julius Caesar conquered most of the area now covered by France, Belgium and Switzerland, and invaded Britain twice, and "The Conquest of Gaul" is his record of these campaigns. Caesar's narrative offers insights into his military strategy and
...more
Published February 24th 1983 by Penguin Books (first published -50)
Gaius Julius Caesar (Classical Latin: [ˈɡaː.i.ʊs ˈjuː.li.ʊs ˈkae.sar]; 13 July 100 BC – 15 March 44 BC), known as Julius Caesar, was a Roman politician, general, and notable author of Latin prose. He played a critical role in the events that led to the demise of the Roman Republic and the rise of the Roman Empire.

In 60 BC, Caesar, Crassus, and Pompey formed a political alliance that dominated Roma
...more
More about Gaius Julius Caesar...
"Cuando lleguemos a ese río, ya hablaremos de ese puente."
— 6 likes
"He therefore built a bridge over the Saône and led his army across. Alarmed by his unexpected arrival and seeing that he had effected in one day the crossing which they had the greatest difficulty in accomplishing in twenty days,"
— 1 likes
More quotes…