Goodreads helps you keep track of books you want to read.
Start by marking "North to the Orient " as Want to Read: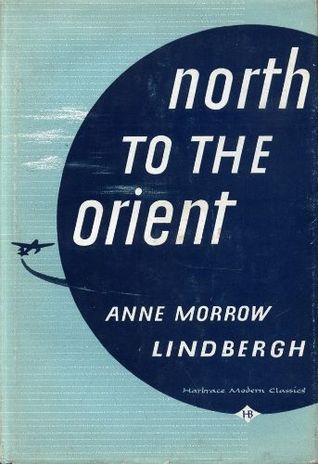 North to the Orient
In 1931 Charles and Anne Morrow Lindbergh set off on a flight to the Orient by the Great Circle Route. The classic North to the Orient is the beautifully written account of the trip.
Hardcover
,
Harbrace Modern Classics
,
255 pages
Published 1963 by Harcourt, Brace and Company (first published 1935)
Anne Morrow Lindbergh was born in 1906. She married Charles Lindbergh in 1929 and became a noted aviator in her own right, eventually publishing several books on the subject and receiving several aviation awards. Gift from the Sea, published in 1955, earned her international acclaim. She was inducted into the National Aviation Hall of Fame, the National Women's Hall of Fame, and the Aviation Hall
...more
More about Anne Morrow Lindbergh...
"For Sayonara, literally translated, 'Since it must be so,' of all the good-bys I have heard is the most beautiful. Unlike the Auf Wiedershens and Au revoirs, it does not try to cheat itself by any bravado 'Till we meet again,' any sedative to postpone the pain of separation. It does not evade the issue like the sturdy blinking Farewell. Farewell is a father's good-by. It is - 'Go out in the world and do well, my son.' It is encouragement and admonition. It is hope and faith. But it passes over the significance of the moment; of parting it says nothing. It hides its emotion. It says too little. While Good-by ('God be with you') and Adios say too much. They try to bridge the distance, almost to deny it. Good-by is a prayer, a ringing cry. 'You must not go - I cannot bear to have you go! But you shall not go alone, unwatched. God will be with you. God's hand will over you' and even - underneath, hidden, but it is there, incorrigible - 'I will be with you; I will watch you - always.' It is a mother's good-by. But Sayonara says neither too much nor too little. It is a simple acceptance of fact. All understanding of life lies in its limits. All emotion, smoldering, is banked up behind it. But it says nothing. It is really the unspoken good-by, the pressure of a hand, 'Sayonara."
— 97 likes
"There is, of course, always the personal satisfaction of writing down one's experiences so they may be saved, caught and pinned under glass, hoarded against the winter of forgetfulness. Time has been cheated a little, at least in one's own life, and a personal, trivial immortality of an old self assured. And there is another personal satisfaction: that of the people who like to recount their adventures, the diary-keepers, the story-tellers, the letter-writers, a strange race of people who feel half cheated of an experience unless it is retold. It does not really exist until it is put into words. As though a little doubting or dull, they could not see it until it is repeated. For, paradoxically enough, the more unreal an experience becomes - translated from real action into unreal words, dead symbols for life itself - the more vivid it grows. Not only does it seem more vivid, but its essential core becomes clearer. One says excitedly to an audience, 'Do you see - I can't tell you how strange it was - we all of us felt...' although actually, at the time of incident, one was not conscious of such a feeling, and only became so in the retelling. It is as inexplicable as looking all afternoon at a gray stone of a beach, and not realizing, until one tries to put it on canvas, that is in reality bright blue."
— 18 likes
More quotes…