Goodreads helps you keep track of books you want to read.
Start by marking "The Soul of Rumi: A New Collection of Ecstatic Poems" as Want to Read:
The Soul of Rumi: A New Collection of Ecstatic Poems
Inside A Lover's Heart There's Another World, And Yet Another Rumi's masterpieces have inspired countless people throughout the centuries, and Coleman Barks's exquisite renderings of the thirteenth-century Persian mystic are widely considered the definitive versions for our time. Barks's translations capture the inward exploration and intensity that characterize Rumi's poe
...more
Published September 17th 2002 by HarperOne (first published 2001)
Jalāl ad-Dīn Muhammad Rūmī - also known as Jalāl ad-Dīn Muhammad Balkhī, Mevlânâ/Mawlānā (مولانا, "our master"), Mevlevî/Mawlawī (مولوی, "my master") and more popularly simply as Rumi - was a 13th-century Persian poet, jurist, Islamic scholar, theologian and Sufi mystic who lived in Konya, a city of Ottoman Empire (Today's Turkey). His poems have been widely translated into many of the world's lan
...more
Related Articles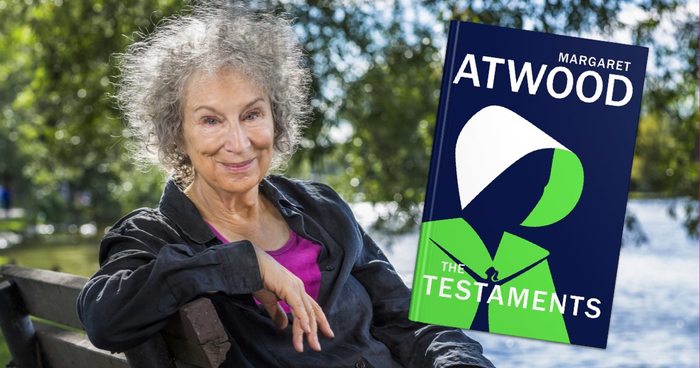 Thirty-four years after the publication of her dystopian classic, The Handmaid's Tale, Atwood returns to continue the story of Offred. We talked...
"We watch a sunlight dust dance,
and we try to be that lively,
but nobody knows what music those particles hear.

Each of us has a secret companion musician to dance to.
Unique rhythmic play, a motion in the street we alone know and hear."
— 30 likes
"ON THE DAY I DIE

On the day I die, when I'm being carried
toward the grave, don't weep. Don't say,

He's gone! He's gone. Death has nothing to do with going away. The sun sets and

the moon sets, but they're not gone.
Death is a coming together. The tomb

looks like a prison, but it's really
release into union. The human seed goes

down in the ground like a bucket into
the well where Joseph is. It grows and

comes up full of some unimagined beauty.
Your mouth closes here, and immediately

opens with a shout of joy there.

---------------------------------

One who does what the Friend wants done
will never need a friend.

There's a bankruptcy that's pure gain.
The moon stays bright when it
doesn't avoid the night.

A rose's rarest essence
lives in the thorn.

----------------------------------

Childhood, youth, and maturity,
and now old age.

Every guest agrees to stay
three days, no more.

Master, you told me to
remind you. Time to go.

-----------------------------------

The angel of death arrives,
and I spring joyfully up.

No one knows what comes over me
when I and that messenger speak!

-------------------------------------

When you come back inside my chest no matter how far I've wandered off,
I look around and see the way.

At the end of my life, with just one breath left, if you come then, I'll sit up and sing.

--------------------------------------

Last night things flowed between us
that cannot now be said or written.

Only as I'm being carried out
and down the road, as the folds of my shroud open in the wind,

will anyone be able to read, as on
the petal-pages of a turning bud,
what passed through us last night.

-------------------------------------

I placed one foot on the wide plain
of death, and some grand
immensity sounded on the emptiness.

I have felt nothing ever
like the wild wonder of that moment.

Longing is the core of mystery.
Longing itself brings the cure.
The only rule is, Suffer the pain.

Your desire must be disciplined,
and what you want to happen
in time, sacrificed."
— 28 likes
More quotes…