Goodreads helps you keep track of books you want to read.
Start by marking "Forgive My Fins (Fins, #1)" as Want to Read: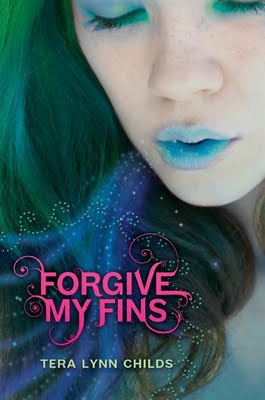 Seventeen-year-old Lily, half-mermaid and half-human, has been living on land and attending high school, where she develops a crush on a boy but is afraid to tell him of her true destiny as the ruler of the undersea kingdom of Thalassinia.
Published May 19th 2010 by HarperCollins
Tera Lynn Childs is the RITA-award-winning young adult author of the mythology-based Oh. My. Gods. series, the Forgive My Fins mermaid romance series, the kick-butt monster-hunting Sweet Venom trilogy, and the Darkly Fae series. She also wrote the City Chicks sweet chick lit romance series and co-wrote the Hero Agenda and Creative HeArts series. Tera lives nowhere in particular and spends her time
...more
More about Tera Lynn Childs...
Other Books in the Series
Fantasy & Science Fiction Deals
"Oh, Lily," He says shaking his head. "I know about love. About wanting and dreaming and wishing with every part of your soul. I know enough to reconize the parts that are real and teh parts that are only in my fantasy." Ge turns his head slightly to face me,
and I find myself saying,"L-like what?"
"Like when she cries and my heart tears in to little shreds, and all I can think of is making her forget the source of her sadness." His face is blank, emotionless. his words -and the underlying emotion bombarding me through the bond- more than make up for it. "That's real."
my voice is barely a whisper when I ask, "And fantasy?"
"Believing she'll ever feel the same way."
— 160 likes
"I don't believe it,' Quince says with absolute certainty. ' I don't believe anything magical can make someone more in love.' [...] He looks me right in the eye as he says, 'Love is already the strongest magic in the world."
— 153 likes
More quotes…