Goodreads helps you keep track of books you want to read.
Start by marking "Poison, Shadow, and Farewell (Your Face Tomorrow, #3)" as Want to Read:
Poison, Shadow, and Farewell
Poison, Shadow, and Farewell, with its heightened tensions between meditations and noir narrative, with its wit and and ever deeper forays into the mysteries of consciousness, brings to a stunning finale Marías's three-part Your Face Tomorrow. Already this novel has been acclaimed "exquisite" (Publishers Weekly), "gorgeous" (Kirkus), and "outstanding: another work of urgen
...more
Published December 1st 2009 by New Directions Publishing Corporation (first published 2007)
Javier Marías was a Spanish novelist, translator, and columnist. His work has been translated into 42 languages. Born in Madrid, his father was the philosopher Julián Marías, who was briefly imprisoned and then banned from teaching for opposing Franco. Parts of his childhood were spent in the United States, where his father taught at various institutions, including Yale University and Wellesley Co
...more
Other books in the series
News & Interviews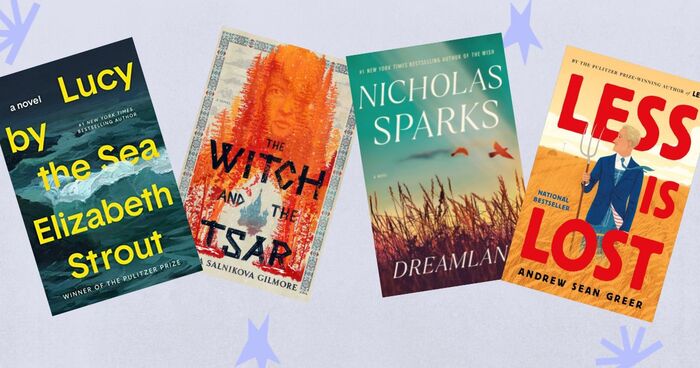 Need another excuse to treat yourself to a new book this week? We've got you covered with the buzziest new releases of the day. To create our...
"The truth is that we never know from whom we originally get the ideas and beliefs that shape us, those that make a deep impression on us and which we adopt as a guide, those we retain without intending to and make our own.

From a great-grandparent, a grandparent, a parent, not necessarily ours? From a distant teacher we never knew and who taught the one we did know? From a mother, from a nursemaid who looked after her as a child? From the ex-husband of our beloved, from a ġe-bryd-guma we never met? From a few books we never read and from an age through which we never lived? Yes, it's incredible how much people say, how much they discuss and recount and write down, this is a wearisome world of ceaseless transmission, and thus we are born with the work already far advanced but condemned to the knowledge that nothing is ever entirely finished, and thus we carry-like a faint booming in our heads-the exhausting accumulated voices of the countless centuries, believing naively that some of those thoughts and stories are new, never before heard or read, but how could that be, when ever since they acquired the gift of speech people have never stopped endlessly telling stories and, sooner or later, everything is told, the interesting and the trivial, the private and the public, the intimate and the superfluous, what should remain hidden and what will one day inevitably be broadcast, sorrows and joys and resentments, certainties and conjectures, the imagined and the factual, persuasions and suspicions, grievances and flattery and plans for revenge, great feats and humiliations, what fills us with pride and what shames us utterly, what appeared to be a secret and what begged to remain so, the normal and the unconfessable and the horrific and the obvious, the substantial-falling in love-and the insignificant-falling in love. Without even giving it a second thought, we go and we tell."
— 3 likes
"Casi no quedó rastro de lo que vino después, o queda un vestigio titubeante en mi más lánguida memoria y tal vez también en la de ella, pero nunca lo comprobaremos, quiero decir entre nosotros, frente a frente, con nuestras palabras cruzadas. Sucedió como si ya en el mismo momento de suceder ambos quisiéramos fingir que no ocurría, o no darnos por enterados, no registrarlo y que no contara, o silenciarlo hasta el extremo de poder negarlo más tarde, el uno al otro, y ante los demás si uno se iba de la lengua o el otro hablaba y presumía, e incluso cada uno a sí mismo, como si los dos supiéramos que no acaba de existir aquello de lo que no hay constancia ni reconocimiento explícito, o que jamás es mencionado; aquello que, por así decir, se comete a escondidas o a espaldas de sus autores, o sin su consentimiento pleno, o con su sesteante conciencia: lo que hacemos diciéndonos que no estamos haciéndolo, lo que acontece mientras nos persuadimos de que no está aconteciendo, no es tan raro como suena o parece, es más, eso pasa todo el tiempo y apenas si nos causa alarma ni nos hace dudar de nuestro juicio. Nos convencemos de no haber tenido tal pensamiento indigno ni tal otro maligno, de no haber deseado a esa mujer o esa muerte —la muerte de ningún enemigo ni de ningún marido ni de ningún amigo—, de no haber sentido momentáneo desprecio o animadversión hacia quien más reverenciábamos o mayor gratitud debíamos, ni envidia de nuestros fastidiosos hijos que van a seguir viviendo cuando ya no estemos y se apropiarán de todo y ocuparán con prisa nuestro puesto"
— 0 likes
More quotes…