Goodreads helps you keep track of books you want to read.
Start by marking "The Grand Sophy" as Want to Read:
The Grand Sophy
A reader favorite from the Queen of Regency Romance, The Grand Sophy is an utterly hilarious and completely endearing story of a charming young heroine and the outrageous lengths she goes to solve everyone else's problems, and the surprises in store for everyone!

When Sir Horace Stanton-Lacy is ordered to South America on diplomatic business, he parks his only daughter
...more
Published July 1st 2009 by Sourcebooks Casablanca (first published 1950)
Georgette Heyer was a prolific historical romance and detective fiction novelist. Her writing career began in 1921, when she turned a story for her younger brother into the novel The Black Moth.

In 1925 she married George Ronald Rougier, a mining engineer. Rougier later became a barrister and he often provided basic plot outlines for her thrillers. Beginning in 1932, Heyer released one romance nov
...more
Related Articles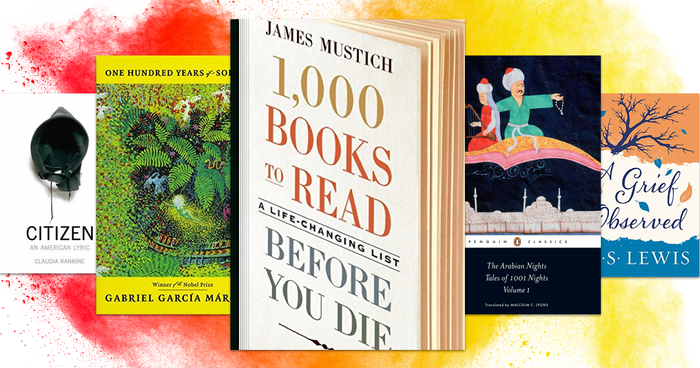 We all have our reading bucket lists. James Mustich's 1,000 Books to Read Before You Die is bound to seriously expand that list...
"I shall be much obliged to you, cousin, if you will refrain from telling my sisters that she has a face like a horse!'
'But, Charles, no blame attaches to Miss Wraxton! She cannot help it, and that, I assure you, I have always pointed out to your sisters!'
'I consider Miss Wraxton's countenance particularly well-bred!'
'Yes, indeed, but you have quite misunderstood the matter! I meant a particularly well-bred horse!'
'You mean, as I am perfectly aware, to belittle Miss Wraxton!'
'No, no! I am very fond of horses!' Sophy said earnestly.
Before he could stop himself he found that he was replying to this. 'Selina, who repeated the remark to me, is not fond of horses, however, and she-' He broke off, seeing how absurd it was to argue on such a head.
'I expect she will be, when she has lived in the same house with Miss Wraxton for a month or two,' said Sophy encouragingly."
— 76 likes
"You are shameless!" he said angrily.
"Nonsense! You only say so because I drove your horses," she answered. "Never mind! I will engage not to do so again."
"I'll take care of that!" he retorted. "Let me tell you, my dear Cousin, that I should be better pleased if you would refrain from meddling in the affairs of my family!"
"Now, that," said Sophy, "I am very glad to know, because if ever I should desire to please you I shall know just how to set about it. I daresay I shan't, but one likes to be prepared for any event, however unlikely."
He turned his head to look at her, his eyes narrowed, and their expression was by no means pleasant. "Are you thinking of being so unwise as to cross swords with me?" he demanded. "I shan't pretend to misunderstand you, Cousin, and I will leave you in no doubt of my own meaning! If you imagine that I will ever permit that puppy to marry my sister, you have yet something to learn of me!"
"Pooh!" said Sophy. "Mind your horses, Charles, and don't talk fustian to me."
— 60 likes
More quotes…