Goodreads helps you keep track of books you want to read.
Start by marking "Sister Carrie" as Want to Read: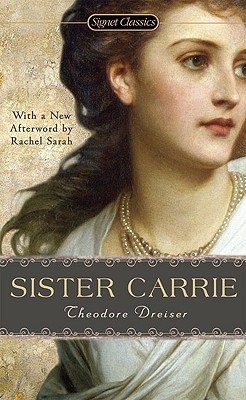 Read Book*
*Different edition
Sister Carrie
This epic of urban life tells of small- town heroine Carrie Meeber, adrift in an indifferent Chicago. Setting out, she has nothing but a few dollars and an unspoiled beauty. Hers is a story of struggle? from sweatshop to stage success?and of the love she inspires in an older, married man whose obsession with her threatens to destroy him.
Published January 6th 2009 by Signet Book (first published 1900)
Theodore Herman Albert Dreiser was an American novelist and journalist. He pioneered the naturalist school and is known for portraying characters whose value lies not in their moral code, but in their persistence against all obstacles, and literary situations that more closely resemble studies of nature than tales of choice and agency.

http://en.wikipedia.org/wiki/Theodore...
More about Theodore Dreiser...
"People in general attach too much importance to words. They are under the illusion that talking effects great results. As a matter of fact, words are, as a rule, the shallowest portion of all the argument. They but dimly represent the great surging feelings and desires which lie behind. When the distraction of the tongue is removed, the heart listens."
— 92 likes
"Many individuals are so constituted that their only thought is to obtain pleasure and shun responsibility. They would like, butterfly-like, to wing forever in a summer garden, flitting from flower to flower, and sipping honey for their sole delight. They have no feeling that any result which might flow from their action should concern them. They have no conception of the necessity of a well-organized society wherein all shall accept a certain quota of responsibility and all realize a reasonable amount of happiness. They think only of themselves because they have not yet been taught to think of society. For them pain and necessity are the great taskmasters. Laws are but the fences which circumscribe the sphere of their operations. When, after error, pain falls as a lash, they do not comprehend that their suffering is due to misbehavior. Many such an individual is so lashed by necessity and law that he falls fainting to the ground, dies hungry in the gutter or rotting in the jail and it never once flashes across his mind that he has been lashed only in so far as he has persisted in attempting to trespass the boundaries which necessity sets. A prisoner of fate, held enchained for his own delight, he does not know that the walls are tall, that the sentinels of life are forever pacing, musket in hand. He cannot perceive that all joy is within and not without. He must be for scaling the bounds of society, for overpowering the sentinel. When we hear the cries of the individual strung up by the thumbs, when we hear the ominous shot which marks the end of another victim who has thought to break loose, we may be sure that in another instance life has been misunderstood--we may be sure that society has been struggled against until death alone would stop the individual from contention and evil."
— 48 likes
More quotes…