Jump to ratings and reviews
* * * Discontinued Teaser Series * * *

Important Note: This is for the discontinued promo series. Novel in progress.

Cyberpink is the new novel and TV series in progress from P.A. Lopez, author of the critically acclaimed RNWY: A Space Adventure.

Praise for RNWY: A Space Adventure

Kirkus (Featured Book): "A futuristic tale with clever, gratifying worldbuilding that will leave readers eagerly anticipating the sequel."

Publishers Weekly's BookLife: "Science fiction for the social media age, perfectly geared to a miniseries adaptation."

(Cover artwork by Samuel Bermudez)
18 pages, Kindle Edition
Published March 23, 2021
---
---
About the author
Join the Cyberpink email list!

Find out when the next installment of Cyberpink is coming out! Join the CP girls' mailing list!

P.A. Lopez is owner of Fashion Week Online and author of the critically acclaimed novel RNWY: A Space Adventure.

A SPIN.com-pick musician, he had a weekly Saturday-night gig at the Comedy Store in LA, and recently moved to the West Village to write full-time.

Cyberpink — the latest addition to the RNWY Universe — is dedicated to Beauty Starr, whose beautiful life can be seen on Instagram @officialbeautystarr.

Join the mailing list to get free stuff with love at Cyberpink.net.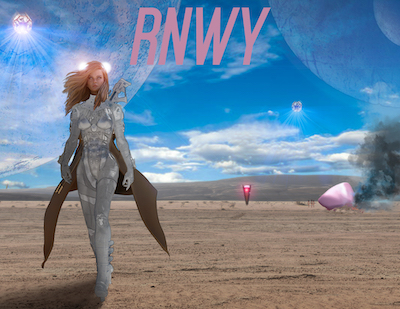 He says, "As with the Marvel movies, my books are explorations of character. But my characters aren't 'chosen ones.' They're ordinary people who do extraordinary things using compassion, wit, humor, and kindness: even when their choices are difficult. RNWY: Book 1 is also about some of the ways technology will challenge some our basic assumptions about life: and how we can rise to the occasion with expanded notions of family and love. You can follow RNWY Universe as it develops on Instagram @RNWYUniverse and at RNWYUniverse.com."
---
---
Community Reviews
Displaying 1 - 4 of 4 reviews
Displaying 1 - 4 of 4 reviews
---
Can't find what you're looking for?
Get help and learn more about the design.