Goodreads helps you keep track of books you want to read.
Start by marking "Glory Road" as Want to Read:
Glory Road
E. C. "Scar" Gordon was on the French Riviera recovering from a tour of combat in Southeast Asia , but he hadn't given up his habit of scanning the Personals in the newspaper. One ad in particular leapt out at him:

"ARE YOU A COWARD? This is not for you. We badly need a brave man. He must be 23 to 25 years old, in perfect health, at least six feet tall, weigh about 190 poun
...more
Published March 21st 2006 by Orb Books (first published September 1st 1963)
Robert Anson Heinlein was an American novelist and science fiction writer. Often called "the dean of science fiction writers", he is one of the most popular, influential, and controversial authors of "hard science fiction".

He set a high standard for science and engineering plausibility and helped to raise the genre's standards of literary quality. He was the first SF writer to break into mainstre
...more
Related Articles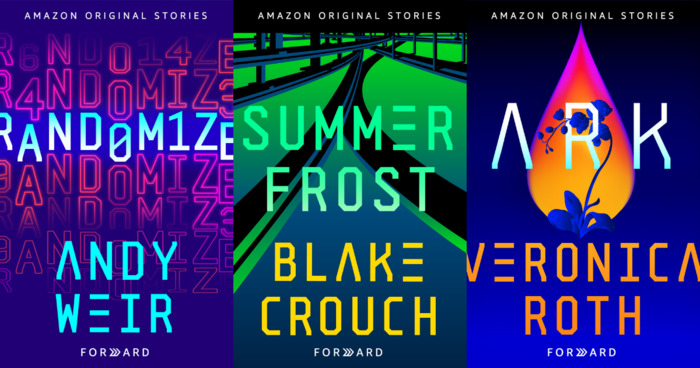 "Do you want to write a sci-fi short story?" Blake Crouch asked Andy Weir. This is how Forward, the brand-new collection from...
"What did I want?
I wanted a Roc's egg. I wanted a harem loaded with lovely odalisques less than the dust beneath my chariot wheels, the rust that never stained my sword,. I wanted raw red gold in nuggets the size of your fist and feed that lousy claim jumper to the huskies! I wanted to get u feeling brisk and go out and break some lances, then pick a like wench for my droit du seigneur--I wanted to stand up to the Baron and dare him to touch my wench! I wanted to hear the purple water chuckling against the skin of the Nancy Lee in the cool of the morning watch and not another sound, nor any movement save the slow tilting of the wings of the albatross that had been pacing us the last thousand miles.
I wanted the hurtling moons of Barsoom. I wanted Storisende and Poictesme, and Holmes shaking me awake to tell me, "The game's afoot!" I wanted to float down the Mississippi on a raft and elude a mob in company with the Duke of Bilgewater and the Lost Dauphin.
I wanted Prestor John, and Excalibur held by a moon-white arm out of a silent lake. I wanted to sail with Ulysses and with Tros of Samothrace and eat the lotus in a land that seemed always afternoon. I wanted the feeling of romance and the sense of wonder I had known as a kid. I wanted the world to be what they had promised me it was going to be--instead of the tawdry, lousy, fouled-up mess it is."
— 52 likes
"I was not offended, my love. An insult is like a drink; it affects one only if accepted. And pride is too heavy baggage for my journey..."
— 40 likes
More quotes…