Goodreads helps you keep track of books you want to read.
Start by marking "Surviving Autocracy" as Want to Read:
Surviving Autocracy
"The Platonic ideal of the anti-Trump Trump book." --The Washington Post

"An indispensable voice of and for this moment." -Timothy Snyder, author of On Tyranny

A bestselling, National Book Award-winning journalist's essential guide to understanding, resisting, and recovering from the ravages of our tumultuous times.

In the run-up to the 2016 election, Masha Gessen stood out
...more
Published June 2nd 2020 by Riverhead Books (first published June 1st 2020)
Masha Gessen (born 1967) is an American-Russian journalist, translator, and nonfiction author. They identify as non-binary and use they/them pronouns.

Born into an Ashkenazi Jewish family in Russia, in 1981 they moved with their family to the United States to escape anti-Semitism. They returned in 1991 to Moscow, where they worked as a journalist, and covered Russian military activities during the
...more
News & Interviews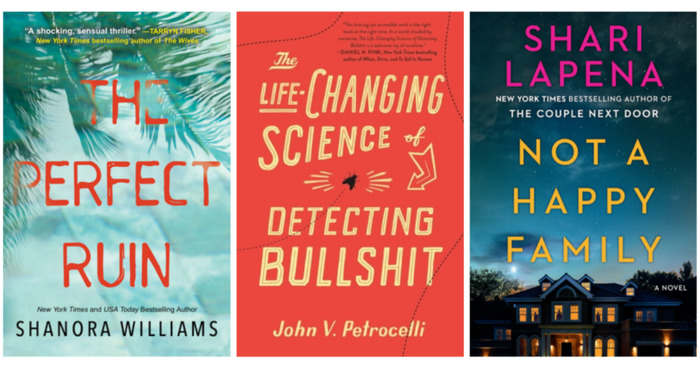 Need another excuse to treat yourself to a new book this week? We've got you covered with the buzziest new releases of the day. To create our...
"Are you going to believe your own eyes or the headlines? This is the dilemma of people who live in totalitarian societies. Trusting one's own perceptions is a lonely lot; believing one's own eyes and being vocal about it is dangerous. Believing the propaganda—or, rather, accepting the propaganda as one's reality—carries the promise of a less anxious existence, in harmony with the majority of one's fellow citizens. The path to peace of mind lies in giving one's mind over to the regime. Bizarrely, the experience of living in the United States during the Trump presidency reproduces this dilemma. Being an engaged citizen of Trump's America means living in a constant state of cognitive tension. One cannot put the president and his lies out of one's mind, because he is the president. Accepting that the president continuously tweets or says things that are not true, are known not to be true, are intended to be heard or read as power lies, and will continue to be broadcast—on Twitter and by the media—after they have been repeatedly disproven means accepting a constant challenge to fact-based reality. In effect, it means that the two realities—Trumpian and fact-based—come to exist side by side, on equal ground. The tension is draining. The need to pay constant attention to the lies is exhausting, and it is compounded by the feeling of helplessness in the face of the ridiculous and repeated lies. Most Americans in the age of Trump are not, like the subjects of a totalitarian regime, subjected to state terror. But even before the coronavirus, they were subjected to constant, sometimes debilitating anxiety. One way out of that anxiety is to relieve the mind of stress by accepting Trumpian reality. Another—and this too is an option often exercised by people living under totalitarianism—is to stop paying attention, disengage, and retreat to one's private sphere. Both approaches are victories for Trump in his attack on politics."
— 9 likes
"We imagine the villains of history as masterminds of horror. This happens because we learn about them from history books, which weave narratives that retrospectively imbue events with logic, making them seem predetermined. Historians and their readers bring an unavoidable perception bias to the story: if a historical event caused shocking destruction, then the person behind this event must have been a correspondingly giant monster. Terrifying as it is to contemplate the catastrophes of the twentieth century, it would be even more frightening to imagine that humanity had stumbled unthinkingly into its darkest moments. But a reading of contemporaneous accounts will show that both Hitler and Stalin struck many of their countrymen as men of limited ability, education, and imagination—and, indeed, as being incompetent in government and military leadership. Contrary to popular wisdom, they were not political savants, possessed of one extraordinary talent that brought them to power. It was, rather, the blunt instrument of reassuring ignorance that propelled their rise in a frighteningly complex world."
— 6 likes
More quotes…