Goodreads helps you keep track of books you want to read.
Start by marking "Bloodied Hands (Bellandi Crime Syndicate, #1)" as Want to Read:
Bloodied Hands
Ivory

Caught in a bank robbery and staring down the barrel of a gun was not the way I intended to start my day. When the masked man takes one look at my face and mutters my name in shock, my world stops.

And then he follows it with a plea for forgiveness from the devil himself.

Matteo uses the opportunity to invade my life, reclaiming me as if the past twelve years never h
...more
Kindle Edition
,
363 pages
Published February 12th 2020 by Amazon
Adelaide fell in love with books at a young age and quickly discovered her love for writing soon after. Since then, she's become a self-professed plot hoarder of over 300 book concepts.
After receiving her degree in Psychology, Adelaide went on to work in a therapeutic riding facility. When her daughter was born, Adelaide traded out her boots to be a stay-at-home mom. In 2019, she added author to t
...more
Other books in the series
Related Articles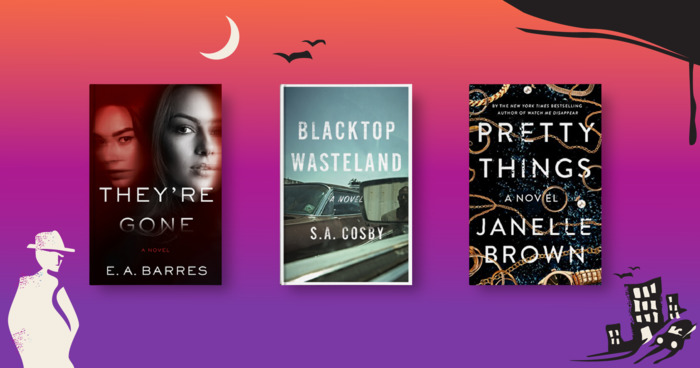 Kellye Garrett's first novel, Hollywood Homicide, was released in August 2017 and won the Agatha, Anthony, Lefty, and Independent Publisher...
"Matteo didn't lick a woman's pussy because he felt obligated, or at the very least not mine. I might have argued he enjoyed it more than I did if he wasn't so damn good at it. That talented tongue explored every part of me, thrusting in and out until I whimpered. When he turned his attention to my clit, it was so he could slide a finger inside me. I clenched around him on a cry, feeling the way he moaned in response vibrate through me. He withdrew that finger, only to add a second and curl them to stroke that spot inside me that made me quiver. "Teo," I whimpered, and the sound of his name seemed to push him over the edge. He wrapped his lips around the bundle of nerves at the apex of my thigh, sucking gently. My legs tightened around his head; my hand buried in his hair to hold him exactly where I wanted him as I shattered in a blinding orgasm that stole my ability to function. I laid there, panting and trying to regain my ability to move. When I opened my eyes, it was to Matteo shoving his own underwear down his legs and kicking them off. He pulled his fingers free of me and spread my legs wide from where they'd wrapped around his head. Sliding up my body, his hips lined up with mine so he could grind his length against my wet core. His lips found mine in a bruising, claiming kiss that seemed even more primal because he tasted like me. He reached down, sliding himself through my wet and notching his head at my entrance. Pulling away from my lips, he groaned, "Tell me you're mine." Still recovering from my orgasm, I nodded in a daze. "Words, Angel. Give me the words." "Yours," I murmured, cupping his cheek with a delirious smile and tugging him down to kiss him again. He slid inside me slowly, filling me until there wasn't a single inch that couldn't feel him. "Fuck," he groaned against my mouth. He reached down, wrapping my legs around his hips. Our foreheads pressed together; our mouths not quite touching as he started to move inside me. Even without his lips on mine, I could taste him, taste me in his breath on my face. One of his hands grabbed mine, our fingers intertwining while he wrapped his other under my shoulder to hold me where he wanted me. He slid in and out in slow, hard thrusts."
— 5 likes
"Because we both knew I was broken. Broken in a way that I would eventually have to accept that love just would not happen for me. Never again."
— 4 likes
More quotes…