Goodreads helps you keep track of books you want to read.
Start by marking "The Trouble with Hating You (The Trouble with Hating You, #1)" as Want to Read:
The Trouble with Hating You
Liya Thakkar is a successful biochemical engineer, takeout enthusiast, and happily single woman. The moment she realizes her parents' latest dinner party is a setup with the man they want her to marry, she's out the back door in a flash. Imagine her surprise when the same guy shows up at her office a week later -- the new lawyer hired to save her struggling company. What's
...more
Published May 12th 2020 by Forever
Sajni Patel is an award-winning author of women's fiction and young adult books, drawing on her experiences growing up in Texas, an inexplicable knack for romance and comedy, and the recently resurfaced dark side of fantastical things. Her works have appeared on numerous Best of the Year and Must Read lists from Cosmo, Oprah Magazine, Teen Vogue, Apple Books, Audiofile, Tribeza, Austin Woman's Mag
...more
Other books in the series
Articles featuring this book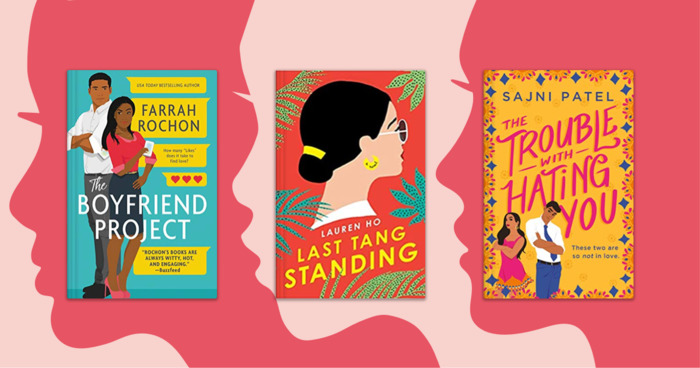 Finding the perfect book at the perfect moment can feel a lot like falling in love. Both experiences bring up those "I can't take my eyes off of...
"The world is changing, and the older generation needs to keep up or shut up."
— 12 likes
"Where are we?" she asked when I pulled into a parking lot.

"The park."

"Isn't it dangerous at night?"

"Not here. Come on." I pulled her out of her seat and grabbed a blanket from the trunk before trekking through the soft grass.

"You always keep a blanket in your car?"

"Yeah, for emergencies. Never know when you might need it. Food, water, first-aid kit, too."

"Oh!" she grunted and caught my arm as one of her heels pierced the soft dirt and sank.

"You should take those off."

"And walk around barefoot? Hello? Ever heard of hookworms and tetanus?"

"Ever heard of snapping your ankles as you fall flat on your face in the dark?" I asked as I squatted in front of her and slipped her foot out of the high heels.

"What are you doing?" she gasped, tumbling forward and grabbing onto my shoulders for support.

"Removing your obstacles."

She landed a bare foot on the grass as I undid the other shoe. "So now I get tetanus?"

I looked up at her, my hands lightly stroking her ankles up to her calves. "You worry too much."

"It's a real risk. Ask Preeti."

I stood slowly, moving up her body, and hovered above her.

"How…how far are we walking?" she asked.

"To the river."

"In the dark?"

I nodded and handed her the shoes.

"Took these off and you won't even carry them?"

"I'll carry them," I replied, swooped down, and threw her over the blanket on my shoulder.

Liya yelped. "Put me down!"

"So you can get tetanus?" I asked and walked toward the river.

She laughed. "I hate you!"

"You love it."

She slapped my butt and then poked her pointy elbows into my shoulder as she arched her back. "Enjoying the view of my backside from over there?"

I slid my hand up the back of her thighs and tugged her dress down to keep her covered.

"This isn't so bad," she said.

"Oh, yeah?"

"Yeah." She slapped my butt again. "Giddyap!"

"All right. You asked for it."

Her next words were swallowed up in a scream as I took off at a full sprint.

She gripped my shirt, clutching for my waist, as the breeze broke around us. I ran the short distance to the riverside in no time, slowing only when the moonlit gleam on the water's surface appeared.

I placed Liya on the grass, but she swayed away. I grabbed her by the waist to steady her and chuckled. "Are you okay?"

"You try doing that upside down."
— 7 likes
More quotes…