Goodreads helps you keep track of books you want to read.
Start by marking "Empire of Wild" as Want to Read:
Empire of Wild
"Empire of Wild is doing everything I love in a contemporary novel and more. It is tough, funny, beautiful, honest and propulsive—all the while telling a story that needs to be told by a person who needs to be telling it."—Tommy Orange, author of There There
A bold and brilliant new indigenous voice in contemporary literature makes her American debut with this kinetic, imag
...more
Published July 28th 2020 by William Morrow (first published September 17th 2019)
Cherie Dimaline wins her first Governor General's Literary Award in 2017 with The Marrow Thieves. She is an author and editor from the Georgian Bay Métis community whose award-winning fiction has been published and anthologized internationally. In 2014, she was named the Emerging Artist of the Year at the Ontario Premier's Award for Excellence in the Arts, and became the first Aboriginal Writer in
...more
Related Articles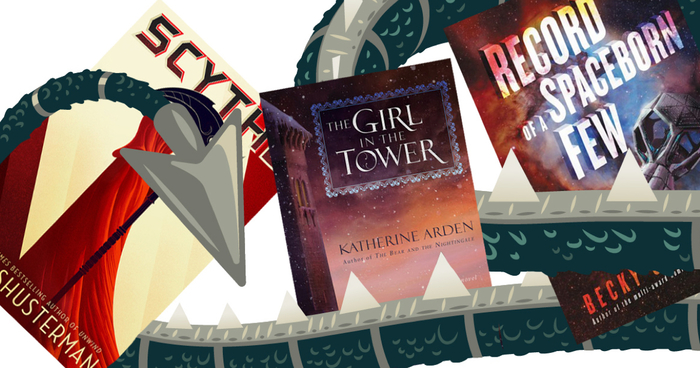 When it comes to learning what's new in science fiction and fantasy, we turned to the experts. These are some of the genres' biggest...
"his red bow tie the colour of shock and murder."
— 1 likes
"On these lands, in both the occupied places and those left to grow wild, alongside the community and the dwindling wildlife, there lived another creature. At night, he roamed the roads that connected Arcand to the larger town across the Bay where Native people were still unwelcome two centuries on. His name was spoken in the low tones saved for swear words and prayer. He was the threat from a hundred stories told by those old enough to remember the tales.
Broke Lent?
The rogarou will come for you.
Slept with a married woman?
Rogarou will find you.
Talked back to your mom in the heat of the moment?
Don't walk home. Rogarou will snatch you up.
Hit a woman under any circumstance?
Rogarou will call you family, soon.
Shot too many deer, so your freezer is overflowing but the herd thin?
If I were you, I'd stay indoors at night. Rogarou knows by now.
He was a dog, a man, a wolf. He was clothed, he was naked in his fur, he wore moccasins to jig. He was whatever made you shiver but he was always there, standing by the road, whistling to the stars so that they pulsed bright in the navy sky, as close and as distant as ancestors.
For girls, he was the creature who kept you off the road or made you walk in packs. The old women never said, "Don't go into town, it is not safe for us there. We go missing. We are hurt." Instead, they leaned in and whispered a warning: "I wouldn't go out on the road tonight. Someone saw the rogarou just this Wednesday, leaning against the stop sign, sharpening his claws with the jawbone of a child."
For boys, he was the worst thing you could ever be. "You remember to ask first and follow her lead. You don't want to turn into Rogarou. You'll wake up with blood in your teeth, not knowing and no way to know what you've done."
Long after that bone salt, carried all the way from the Red River, was ground to dust, after the words it was laid down with were not even a whisper and the dialect they were spoken in was rubbed from the original language into common French, the stories of the rogarou kept the community in its circle, behind the line. When the people forgot what they had asked for in the beginning - a place to live, and for the community to grow in a good way - he remembered, and he returned on padded feet, light as stardust on the newly paved road. And that rogarou, heart full of his own stories but his belly empty, he came home not just to haunt. He also came to hunt."
— 0 likes
More quotes…