Goodreads helps you keep track of books you want to read.
Start by marking "The Murderer's Son (Jackman and Evans, #1)" as Want to Read:
The Murderer's Son
"What if your mother was a serial killer?"

A BLOODY KILLER SEEMS TO HAVE RETURNED TO THE LINCOLNSHIRE FENS

A gripping standalone crime thriller by the best-selling author of the Nikki Galena series.

Twenty years ago: a farmer and his wife are cut to pieces by a ruthless serial killer.

Now: a woman is viciously stabbed to death in the upmarket kitchen of her beautiful h
...more
Audible Audio
,
Unabridged
Published October 16th 2018 by Audible Studios (first published March 16th 2014)
Joy Ellis grew up in Kent but moved to London when she won an apprenticeship with the prestigious Mayfair flower shop, Constance Spry Ltd.
Many years later, having run her own florist shop in Weybridge, Ellis took part in a writer's workshop in Greece and was encouraged by her tutor, Sue Townsend to begin writing seriously. She now lives in the Lincolnshire Fens with her partner Jacqueline and the
...more
Other books in the series
Related Articles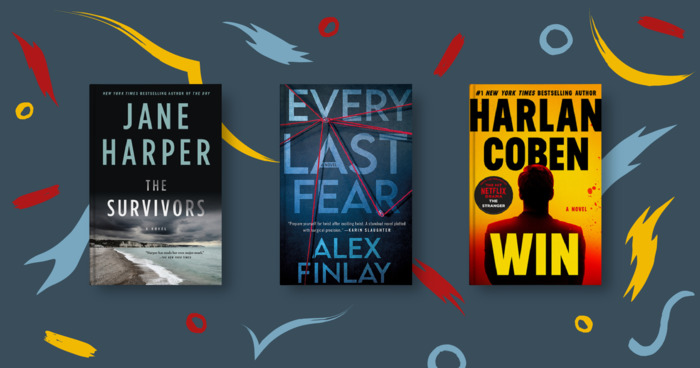 If you ask us, it's always the perfect time to lose yourself in a page-turning mystery. To help you sleuth out a new read, we asked the...
"to make deep indentations. 'He said I broke his Power Ranger, but he did it himself. He hit me first. It was nothing, just a stupid fight.' 'You broke his arm.' 'He fell over! I just pushed him a bit to get him off me. He was yelling and screaming and I wanted him to stop.' He swallowed, and his voice dropped to a whisper. 'I only pushed him.' 'Okay, Daniel.' The man smiled at him, then looked away and stared at the wall as it changed from soft lilac to pink. 'You're right. Kids fight all"
— 0 likes
"girl who couldn't cope anymore.' 'The wrong woman, but still a killer.' It was Skye's turn to sigh. 'What a mess.' Marie nodded, then said, 'Are you comfortable being out with Mark tonight? We do have an awful lot of officers out there, searching really hard.' 'I'm fine with it. As I said, doing nothing and not knowing where Dan's gone is driving me mad.' 'Skye, if you should find him, promise me that you won't go near him. I know it might sound silly, but ring us immediately. I'm not saying that you are in any danger, but we've lost him once, and we can't have that happen again. You need professionals with you to bring him in safely. Okay?' 'I understand. Although nothing will ever convince me that Dan would hurt me.' Marie gave her a worried smile. 'I hope you're right.' * * * Daniel sat in the darkness and listened to the silence. For the first time in weeks his mind was not bombarding him with lies or confusing him with muddled thoughts. He felt completely clear-headed and very, very peaceful. The only words that he heard now were Guy Preston's. They had finally stilled the inner turmoil. He knew that he had done the right thing by going to see the psychologist, not just get his wound attended to, but for what Preston had said. He smiled a little ruefully. He was sorry that he'd had to push the doctor down that bank, but he'd known that it wouldn't hurt him. It had been a gentle gradient and the ground was soft after the early rain. He was sure that the only thing damaged was the man's dignity, and maybe his expensive suede shoes. It hadn't been premeditated. It had been completely spontaneous, triggered by what the doctor had told him about his condition. He just needed some time to himself before he went to the police. Now he knew the truth and a weight had lifted from him. Daniel closed his eyes and felt the welcome darkness seep in. He had somewhere to go and someone special to see, but it could wait a little longer. For a few minutes he would just enjoy the peace, the darkness and the silence. The corners of his lips lifted into a slow smile. CHAPTER TWENTY-THREE Lisa Hurley sat in the driver's seat of her car and watched the small house in Tavernier's Court. It was certainly a pleasant location. The warm red brick of the old railway buildings drew you back to a time when you might see billowy clouds of steam and hear the stokers shovelling coal. But Lisa felt far from mellow. Her back was straight, her shoulders tight as titanium rods, and her eyes were sore from staring into the darkness. The night was cool with a chilly wind coming in off the North Sea and her windscreen was soon speckled with fine misty rain. She had been sitting there for almost an hour. He would come, she was certain of it. And she knew it would be soon. She glanced down at her watch, then stretched and took from her pocket the key fob with the silver moon. Lisa stepped from the car and locked it. Then she walked away from the house until she reached a narrow walkway that led to the garages. Skye's little Kia was still parked in her numbered space close to the property. Skye herself had left some time earlier, in a squad car driven by a police officer. After a careful look round, Lisa stepped down the concrete path. Before she reached the garage block, she veered off onto another path that ran along the back"
— 0 likes
More quotes…