Goodreads helps you keep track of books you want to read.
Start by marking "Their Bounty (Four Mercenaries, #1)" as Want to Read:
Their Bounty
--- Taken. Prized. Possessed. Loved. ---


Clover is an orphan and has led a tough and chaotic life. No stability. No money. No friends. He trusts no one.

His already miserable life takes a nosedive when he ends up in the hands of a human trafficking gang. Someone has placed a request for a young albino man, and Clover is to become the property of a mysterious buyer who will
...more
Kindle Edition
,
302 pages
Published May 20th 2019 by Acerbi & Villani ltd
(Goodreads profile run by Kat)

K. A. Merikan are a team of writers who try not to suck at adulting, with some success. Always eager to explore the murky waters of the weird and wonderful, K.A. Merikan don't follow fixed formulas and want each of their books to be a surprise for those who choose to hop on for the ride.

K.A. Merikan have a few sweeter M/M romances as well, but they specialize in the d
...more
Other books in the series
News & Interviews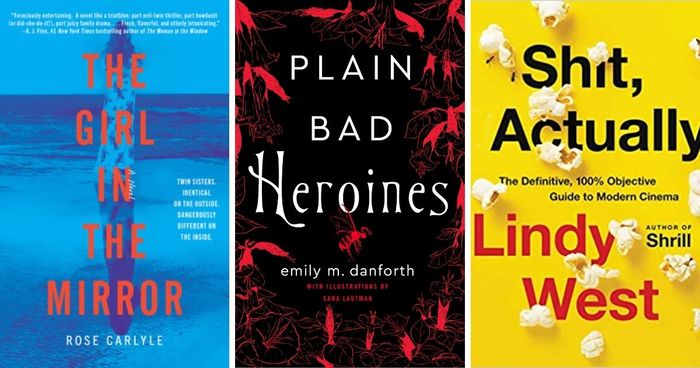 Need another excuse to treat yourself to a new book this week? We've got you covered with the buzziest new releases of the day. To create our...
"Un orgasmo
avrebbe posto fine a quel tormento.

«Cazzo,»
sibilò, mentre il suo corpo pulsante era più che pronto.

Pyro gli
strinse la base del cazzo. «Oh, non puoi,» disse con voce roca. «È per me, non
per te.»

L'urlo di
delusione che emise ebbe vita breve, perché Pyro lo penetrò in una breve
sequenza e si fermò non appena venne dentro di  lui.

Era finita.
Era solamente una puttana, proprio come aveva detto Drake prima di andare via,
quando aveva espresso davanti a tutti il suo disgusto. Non avrebbe dovuto
importargli.

Tuttavia,
non era così

Forse la
sua vita non era a rischio, ma se la gabbia in cui si era intrufolato alla
ricerca di protezione fosse diventata ancora più piccola?"
— 1 likes
"Dato che
era incapace di comunicare i suoi bisogni e i suoi sentimenti, soffrì in
silenzio per ore, nella speranza che forse qualcuno, un giorno, capisse
che cosa fare con lui. Nonostante la tensione sessuale ogni volta che erano
vicini, Drake non si era mai dimostrato molto amichevole, ma Clover era
riuscito a ferire Boar, farsi nemico Pyro e a rifiutare Tank, tutto in una
volta.

Si era
cacciato lui in quel casino

Non
importava che ci fosse di mezzo il suo culo perché, un giorno, nemmeno tanto
lontano, quegli uomini avrebbero deciso che non ne valesse più la pena. Ne era
certo

Chi voleva
prendere in giro? Era un albino e un twink di prim'ordine, ma il suo aspetto
non sarebbe stato una novità per sempre. Anche se era solamente quello che interessava
ai mercenari, nessuno voleva occuparsi di un intralcio ogni giorno.

Era un
peccato che sentisse già la mancanza delle braccia muscolose di Tank, della
sicurezza che non conosceva limiti, di ciò che gli offriva. Quando era con
Tank, lui sapeva quale fosse il suo ruolo nel mondo. Gli dava la stabilità che
nessun ragazzo gli aveva mai regalato. Tuttavia, Tank non era il suo ragazzo.

Era
impossibile tornare a come stavano prima le cose, dopo il suo comportamento,
quindi era bloccato in quel letto, a mezzanotte passata, tormentato dal senso
di colpa per il modo in cui aveva trattato Boar, arrabbiato per l'odio con cui
Pyro lo aveva scopato, e imbarazzato per aver mentito a Tank, che era sempre
stato dalla sua parte, mentre la parola "puttana" continuava a riecheggiare
nella sua testa, anche se non aveva mai venduto il suo corpo per denaro,
nemmeno nei momenti più difficili Era uno spreco
di spazio. Non c'era da meravigliarsi che Jerry avesse voluto sbarazzarsi di
lui.

Un
ragazzino piagnucoloso.

Non
abbastanza bravo come ladro.

Adatto
soltanto per scopare.

Se Tank e
gli altri non fossero stati così carini con lui, non sarebbe stata così dura
accettare la loro rabbia e il loro rifiuto.

Trattenne
un altro singhiozzo, ma il bisogno di conforto divenne un vuoto al centro del
suo petto, così si spostò sul materasso fino a nascondere il viso tra le
scapole di Tank. La pelle era sudata per il caldo, ma profumata, e così
accogliente che desiderò morire soffocato in quel modo."
— 1 likes
More quotes…