Goodreads helps you keep track of books you want to read.
Start by marking "The Perfect Wife" as Want to Read:
The Perfect Wife
The perfect life. The perfect love.

Abbie awakens in a daze with no memory of who she is or how she landed in this unsettling condition. The man by her side claims to be her husband. He's a titan of the tech world, the founder of one of Silicon Valley's most innovative start-ups. He tells Abbie that she is a gifted artist, an avid surfer, a loving mother to their young son,
...more
Published August 6th 2019 by Ballantine Books
J. P. Delaney is the pseudonym of a writer who has previously published best-selling fiction under another name.


Related Articles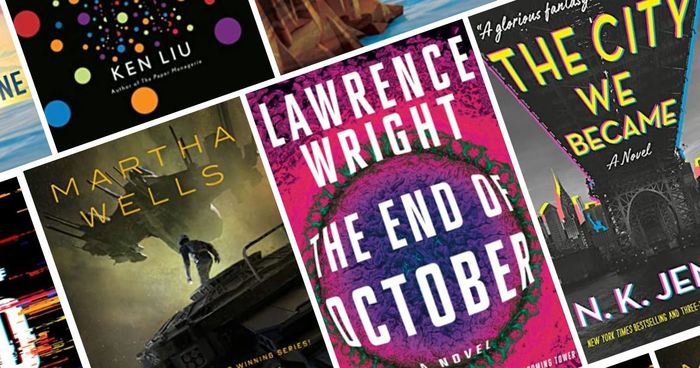 Space operas, magic, destiny, dystopia, aliens: There's a bit of something for everyone in 2020's latest offerings in science fiction and fantasy...
"We already have eight hundred million people living in hunger—and population is growing by eighty million a year. Over a billion people are in poverty—and present industrial strategies are making them poorer, not richer. The percentage of old people will double by 2050—and already there aren't enough young people to care for them. Cancer rates are projected to increase by seventy percent in the next fifteen years. Within two decades our oceans will contain more microplastics than fish. Fossil fuels will run out before the end of the century. Do you have an answer to those problems? Because I do. Robot farmers will increase food production twentyfold. Robot carers will give our seniors a dignified old age. Robot divers will clear up the mess humans have made of our seas. And so on, and so on—but every single step has to be costed and paid for by the profits of the last." He paused for breath, then went on, "My vision is a society where autonomous, intelligent bots are as commonplace as computers are now. Think about that—how different our world could be. A world where disease, hunger, manufacturing, design, are all taken care of by AI. That's the revolution we're shooting for. The shopbots get us to the next level, that's all. And you know what? This is not some binary choice between idealism or realism, because for some of us idealism is just long-range realism. This shit has to happen. And you need to ask yourself, do you want to be part of that change? Or do you want to stand on the sidelines and bitch about the details?" We had all heard this speech, or some version of it, either in our job interviews, or at company events, or in passionate late-night tirades. And on every single one of us it had had a deep and transformative effect. Most of us had come to Silicon Valley back in those heady days when it seemed a new generation finally had the tools and the intelligence to change the world. The hippies had tried and failed; the yuppies and bankers had had their turn. Now it was down to us techies. We were fired up, we were zealous, we felt the nobility of our calling…only to discover that the general public, and our backers along with them, were more interested in 140 characters, fitness trackers, and Grumpy Cat videos. The greatest, most powerful deep-learning computers in humanity's existence were inside Google and Facebook—and all humanity had to show for it were adwords, sponsored links, and teenagers hooked on sending one another pictures of their genitals."
— 1 likes
"Living forever will become as simple as making an upload."
— 0 likes
More quotes…