Goodreads helps you keep track of books you want to read.
Start by marking "Whisper Network" as Want to Read:
Whisper Network
Sloane, Ardie, Grace, and Rosalita have worked at Truviv, Inc. for years. The sudden death of Truviv's CEO means their boss, Ames, will likely take over the entire company. Each of the women has a different relationship with Ames, who has always been surrounded by whispers about how he treats women. Those whispers have been ignored, swept under the rug, hidden away by thos
...more
Published July 2nd 2019 by Flatiron Books
Articles featuring this book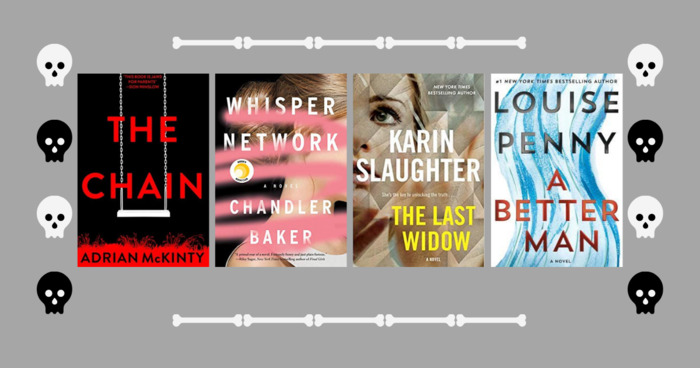 Want to read the latest and greatest in the mystery and thriller genre? We dug into our data to find readers' top 20 mysteries published in the U.S...
"We never understood the tendency to underestimate us, we who had been baptized and delivered through pain, who grinned and bore agonies while managing to draw on wing-tipped eyeliner with a surgically steady hand. We plucked our eyebrows, waxed our upper lips, got razor burn on our crotches, held blades to the cups of our armpits. Shoes tore holes in the skin of our heels and crippled the balls of our feet. We endured labor and childbirth and C-sections, during which doctors literally set our intestines on a table next to our bodies while we were awake. We got acid facials. We punctured our foreheads with Botox and filled our lips and our breasts. We pierced our ears and wore pants that were too tight. We got too much sun. We punished our bodies in spin class. All these tiny sacrifices to make us appear more lithe and ladylike—the female of the species. The weaker sex. Secretly, they toughened our hides, sharpened our edges. We were tougher than we looked. The only difference was that now we were finally letting on."
— 13 likes
"We had guilt of every flavor: We had working-mom guilt, childless guilt, guilt because we'd turned down a social obligation, guilt because we'd accepted an invitation we knew we didn't have time for, guilt for turning away work and for not turning it down when we felt we were already being taken advantage of. We had guilt for asking for more and for not asking for enough, guilt for working from home, guilt for eating a bagel, Catholic guilt and Presbyterian guilt and Jewish guilt, none of which tasted quite the same. We felt guilty if we weren't feeling guilty enough, so much so that we began to take pride in this ability to function under moral conflict."
— 11 likes
More quotes…