Goodreads helps you keep track of books you want to read.
Start by marking "The Myth of Freedom and the Way of Meditation" as Want to Read: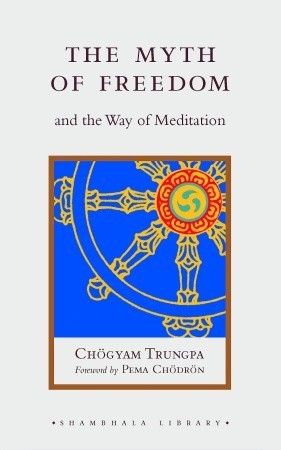 The Myth of Freedom and the Way of Meditation
Freedom is generally thought of as the ability to achieve goals and satisfy desires. But what are the sources of these goals and desires? If they arise from ignorance, habitual patterns, and negative emotions, is the freedom to pursue these goals true freedom—or is it just a myth? 

In this book, Chögyam Trungpa explores the meaning of freedom in the profound context of Tib
...more
Published October 11th 2005 by Shambhala (first published 1976)

Vidyadhara Chögyam Trungpa Rinpoche (Tibetan: ཆོས་ རྒྱམ་ དྲུང་པ་ Wylie: Chos rgyam Drung pa; also known as Dorje Dradul of Mukpo, Surmang Trungpa, after his monastery, or Chökyi Gyatso, of which Chögyam is an abbreviation) was a Buddhist meditation master, scholar, teacher, poet, and artist. He was the 11th descendent in the line of Trungpa tulkus of the Kagyü school of Tibetan Buddhism. He was al
...more
More about Chögyam Trungpa...
"When you relate to thoughts obsessively, you are actually feeding them because thoughts need your attention to survive. Once you begin to pay attention to them and categorize them, then they become very powerful. You are feeding them energy because you are not seeing them as simple phenomena. If one tries to quiet them down, that is another way of feeding them."
— 53 likes
"Becoming "awake" involves seeing our confusion more clearly."
— 50 likes
More quotes…