Goodreads helps you keep track of books you want to read.
Start by marking "Rage Becomes Her: The Power of Women's Anger" as Want to Read:
Rage Becomes Her: The Power of Women's Anger
A transformative book urging twenty-first century-women to embrace their anger and harness it as a tool for lasting personal and societal change.

Women are angry, and it isn't hard to figure out why.

We are underpaid and overworked. Too sensitive, or not sensitive enough. Too dowdy or too made-up. Too big or too thin. Sluts or prudes. We are harassed, told we are asking for
...more
Published September 11th 2018 by Atria Books
Soraya Chemaly is an American writer and activist whose work focuses on the role of gender in politics, religion, education, tech, and media. A 2016 Mirror Award Winner, her work appears in a wide range of publications including TIME, The Guardian, The Nation, Huffington Post, Verge, Quartz, The Atlantic and The New Statesman. Chemaly is also involved with multiple anti-violence and media equity o
...more
Related Articles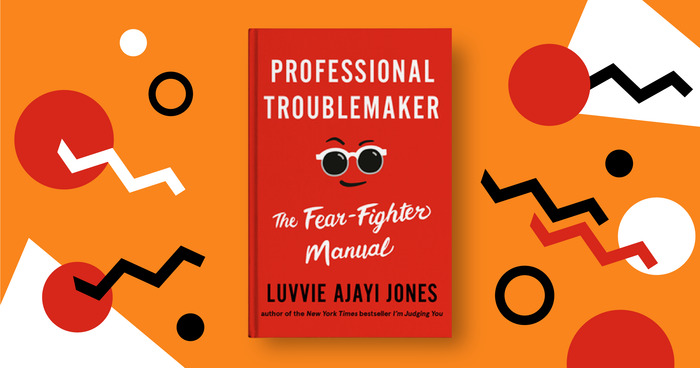 Luvvie Ajayi Jones—author, cultural critic, digital entrepreneur—might be best described as a professional truthteller. Her crazily popular...
"We are so busy teaching girls to be likeable that we often forget to teach them, as we do boys, that they should be respected."
— 40 likes
"Anger is an assertion of rights and worth. It is communication, equality, and knowledge. It is intimacy, acceptance, fearlessness, embodiment, revolt, and reconciliation. Anger is memory and rage. It is rational thought and irrational pain. Anger is freedom, independence, expansiveness, and entitlement. It is justice, passion, clarity, and motivation. Anger is instrumental, thoughtful, complicated, and resolved. In anger, whether you like it or not, there is truth.

Anger is the demand of accountability, It is evaluation, judgment, and refutation. It is reflective, visionary, and participatory. It's a speech act, a social statement, an intention, and a purpose. It's a risk and a threat. A confirmation and a wish. It is both powerlessness and power, palliative and a provocation. In anger, you will find both ferocity and comfort, vulnerability and hurt. Anger is the expression of hope.

How much anger is too much? Certainly not the anger that, for many of us, is a remembering of a self we learned to hide and quiet. It is willful and disobedient. It is survival, liberation, creativity, urgency, and vibrancy. It is a statement of need. An insistence of acknowledgment. Anger is a boundary. Anger is boundless. An opportunity for contemplation and self-awareness. It is commitment. Empathy. Self-love. Social responsibility. If it is poison, it is also the antidote. The anger we have as women is an act of radical imagination. Angry women burn brighter than the sun.

In the coming years, we will hear, again, that anger is a destructive force, to be controlled. Watch carefully, because not everyone is asked to do this in equal measure. Women, especially, will be told to set our anger aside in favor of a kinder, gentler approach to change. This is a false juxtaposition. Reenvisioned, anger can be the most feminine of virtues: compassionate, fierce, wise, and powerful. The women I admire most—those who have looked to themselves and the limitations and adversities that come with our bodies and the expectations that come with them—have all found ways to transform their anger into meaningful change. In them, anger has moved from debilitation to liberation.

Your anger is a gift you give to yourself and the world that is yours. In anger, I have lived more fully, freely, intensely, sensitively, and politically. If ever there was a time not to silence yourself, to channel your anger into healthy places and choices, this is it."
— 39 likes
More quotes…