Goodreads helps you keep track of books you want to read.
Start by marking "Witch's Reign (Desert Cursed, #1)" as Want to Read:
Witch's Reign
I am cursed by the desert I was born in, and now I wander the space between the Walls meant to hold my kind-the supernatural kind- in.

If I can find a way out, if I can find a way to escape, perhaps I can outrun this curse. But that means passing through the Ice Witch's realm-something no one has returned from.

But life has a funny way of changing directions on you. A fr
...more
Kindle Edition
,
370 pages
Published January 30th 2018 by Hijinks Ink Publishing
A long time ago, in a galaxy far away, I was born into a family of Star Wars nuts. I have a lot of siblings (somewhere I lost count but I think there was more than could be numbered on one hand) and being one of the young padawans I was subjected to Star Wars marathons, on a regular basis. If you've read any of my books you'll see there is often a reference to said movies as a small homage to my u
...more
Other books in the series
Related Articles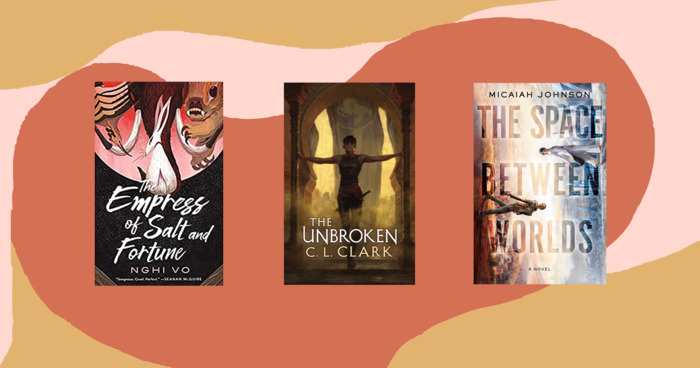 Author C.L. Clark is no newcomer to the sci-fi and fantasy scene. Though she just published her first novel, The Unbroken, earlier this year,...
"There were enough 'buts' in that little story to make a gay man giddy."
— 1 likes
"There beside me sat the flail, seemingly harmless if you discounted the weapon itself. "You can just stay there in the snow, you fucking piece of shit weapon!" Let someone else use it, die on its point . . . I pushed slowly back to my feet, but I'd only taken a few stumbling, exhausted steps before I slowed. I couldn't leave the stupid thing behind. It was too damn dangerous. What if a child found it and played with it? Could the innocent one die from such evil? Groaning, I turned, but it wasn't there in the snow anymore. Fear flickered through me and I reached up to find the handle of the flail sticking above my shoulder, ready once more. It belongs to you now, my mother's voice whispered. "Awesome, just fucking awesome that a psychotic weapon that wants to kill me likes me enough to just attach itself to my back like a damn cactus." I clenched my hands at my sides in part because I wanted to grab the flail and chuck it off my shoulder, but I also did not want to touch it. Which meant it was just going to have to stay there. Forever. I stumbled through the snow, following Balder's hoof prints through the trees. It wasn't long before hoof beats reached my ears. Only it wasn't Balder, but the other horse, Batman. He snorted and danced as he got close to me, his eyes rolling as his nostrils flared. "I know, I stink like blood and wolf. But the big bad wolf is gone." I held a hand out to him and he slowly drew close enough to where I could grab hold of his reins."
— 1 likes
More quotes…