Goodreads helps you keep track of books you want to read.
Start by marking "The Other Brother (Binghamton, #4)" as Want to Read:
The Other Brother
I got the call. The dreaded call every child fears. My dad wasn't well, and the man who had always been my everything needed me.

There was only one thing to do; pack up and head back to my hometown. I had finally made my dream life in the city with the great job and loving boyfriend. But was there really a choice not to go?

I found a wonderful job, a quaint house to rent
...more
Kindle Edition
,
389 pages
Published November 2nd 2017 (first published October 22nd 2017)
Like me on FB: https://www.facebook.com/meghanquinna...

When I was in high school I occasionally read books but was consumed by other teenage things so I didn't take the time to appreciate a good book on a cloudy day, wrapped up in a blanket on the couch. It wasn't until I received a Kindle for Christmas one year that my world completely flipped upside down. When looking for books I came across the
...more
Other books in the series
Related Articles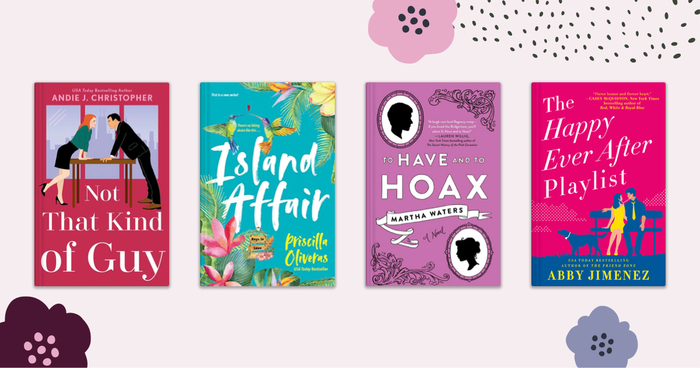 Some people love books. Some people fall in love. And some people fall in love with books about falling in love. Every month our team sorts thro...
"Soon, droves of children start to show up, keeping us rather busy. We start tallying up the number of Trolls, Batmans, Lego men, and princesses we see. The most popular costume? Batman and Superwoman with the fabrics and accessories varying from child to child. But my favorite so far is the girl who dressed as Little Debbie, but then again, I may be biased.

"I think she might be my new favorite," Emma says as a little girl dressed as a nurse walks away.

"That's because you're a nurse, but you can't play favorites," I say, reminding Emma of the rules.

She levels with me. "This coming from the guy whose favorite child was dressed as Little Debbie."

"Come on." I lean back in my chair and motion to my head. "She had the rim of blue on her hat. That's attention to detail."

"And good fucking parenting," Tucker chimes in, and we clink our beer bottles together.

Amelia chuckles next to me as Emma shakes her head. "Ridiculous. What about you, Amelia? What costume has been your favorite so far?"

"Hmm, it's been a tough competition. There has been some real winning costumes and some absolute piss-poor ones." She shakes her head. "Just because you put a scarf around your neck and call yourself Jack Frost doesn't mean you dressed up."

"Ugh, that costume was dumb."

"It shouldn't be referred to as a costume, but that's beside the point." I like how much Amelia is getting into this little pretend competition. She's a far cry from the girl who first came home earlier. I love that having Tucker and Emma over has given me more time with Amelia, getting to know the woman she is today, but also managed to put that beautiful smile back on her face.

"So who takes the cake for you?" I ask, nudging her leg with mine.

Smiling up at me, she says, "Hands down it's the little boy who dressed as Dwight Schrute from The Office. I think I giggled for five minutes straight after he left. That costume was spot on."

"Oh shit, you're right," I reply as Emma and Tucker agree with me. "He even had the watch calculator."

"And the small nose Dwight always complains about." Emma chuckles. "Yeah, he has to be the winner."

"Now, now, now, let's not get too hasty. Little Debbie is still in the running," Tucker points out.

Amelia leans forward, seeming incredibly comfortable, and says, "There is no way Little Debbie beats Dwight. Sorry, dude."

The shocked look on Tucker's face is comical. He's just been put in his place and the old Amelia has returned.

I fucking love it."
— 2 likes
"Hey beautiful," Trey answers, sounding exhausted.

"Hey you." My heart clenches in my chest from the sound of his voice.

He breathes heavily. "I'm sitting here, shirt off, beer in hand, TV on, and I feel so fucking empty." The image of him lying on the couch we bought together, his beautiful body stretched out across the cushions, makes me ache in places I haven't ached in a long time. I want him so bad. "I'm missing my girl tucked against my chest."

"I would give anything to be there right now," I answer honestly.

Sighing, he asks, "Remember that piece of spaghetti I threw on the ceiling the night before you left?"

"Yeah." I smile to myself, thinking about that night. Trey insisted upon making spaghetti and meatballs for me. He came home with a grocery bag full of pasta, spaghetti sauce, and pre-made meatballs. When cooking the noodles, he told me an "old wives' tale." He said if you throw the noodles to the ceiling and it sticks, then the pasta is done. What he didn't realize is if that pasta never comes down, you overcooked it.

"It fell this morning. Scared the shit out of me. I thought it was a spider trying to bury itself in my hair while I was making eggs."

A laugh bursts out of me as I think about Trey bouncing around the apartment, spaghetti in hair thinking it was a spider. "Oh no. Miss Pasta-relli finally fell?"

"She did and that squirrely bitch knew exactly what she was doing, too. Trying to scare the crap right out of me."

"Seems like she did." I chuckle.

"But I got the last laugh when I turned the trash compactor on. Her little pasta self squiggled down the drain. Revenge never felt so sweet."

Still laughing, I shake my head. "Is this what your life has come to? Fighting with old, overcooked pasta?"

"I'm telling you, Amelia, with you gone, I've lost my damn mind."

"Sounds like it"
— 1 likes
More quotes…