Goodreads helps you keep track of books you want to read.
Start by marking "How Not to Spend Your Senior Year" as Want to Read: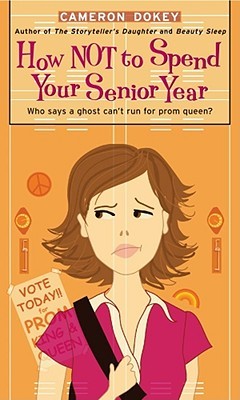 How Not to Spend Your Senior Year
Rule #1: If at all possible, don't pretend to be something you're not. Specifically, don't play dead. Trust me on this one. I did it, so I should know.

Jo O'Connor has spent her whole life moving around. When it comes to new schools, there's not a trick in the book about starting over that Jo doesn't know. But life is about to teach her a new trick: how to disappear entirel
...more
Published December 23rd 2003 by Simon Pulse
Cameron Dokey is an American author living in Seattle, Washington. She has a collection of over 50 old sci-fi and horror films. Cameron was born in the Central Valley of California. Cameron grew up reading classical literature and mythology, perhaps due to her father, Richard, being a teacher of Philosophy, Creative Writing, and Western Literature.

Cameron has one husband and three cats, and is th
...more
More about Cameron Dokey...
"This obsession with Jo's ghost has got to stop. She's the only one who can make that happen, but she can't do it on her own. She needs your help. I need your help. Please don't let me--us--down."
"That was an extremely low blow," Elaine said. "And stop talking about yourself as if you're more than one person. You're creeping me out."
"I am more than one person," I said. "And they both have the same question: Was that a yes or a no?"
— 0 likes
"I could have done without Khandi Kayne.
"We know things," Khandi said now, dropping her voice to a conspiratorial whisper. "The women in my family, I mean. We can just sense them."
I drew a little witch's hat with an arrow poking through the crown.
"You mean supernatural things?"
She nodded. "Personally I wasn't one but surprised to walk into that theater and see Jo O'Connor's ghost. I knew as soon as I put my hand on the door handle that something funny was going on. I got all sort of lightheaded."
Probably the blood trying to find its way through the labyrinth of your brain."
— 0 likes
More quotes…