Goodreads helps you keep track of books you want to read.
Start by marking "Part of My World" as Want to Read:
Part of My World
Romance. Drama. Action. Hope.

In this collection of twenty-one short stories spanning from contemporary settings to fantastical lands, you will meet a troubled teenager, fallen princess, reunited lovers, superheroes, creatures from afar, and more. Funny, sexy, macabre, and heart wrenching, there's something for everyone woven into these tales.

What Readers Are Saying About P
...more
Published June 9th 2017 by A Little Hill Media (first published January 12th 2013)
Kim Bongiorno is the author, freelance writer, and blogger behind Let Me Start By Saying. Her work appears in 13 anthologies, including the NY Times Bestseller I JUST WANT TO PEE ALONE.

She had fun writing her short story collection, PART OF MY WORLD, and is now writing a middle grade novel because her kids told her to.

Kim has written for Real Simple, The Washington Post, Parents Magazine, People
...more
Related Articles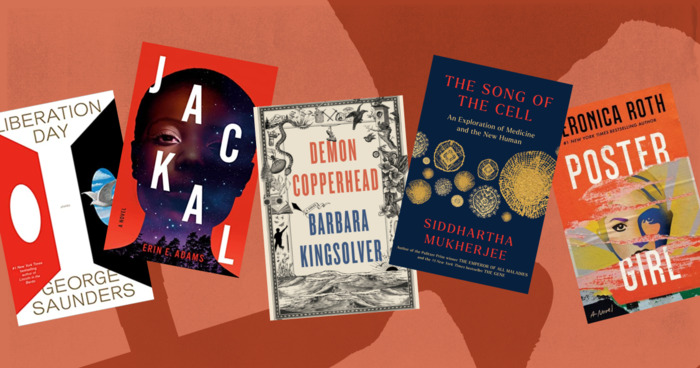 October has arrived, and this month's batch of incoming titles features some big names, some much-anticipated sequels, and several exotic...
"Boney freckled knees pressed into bits of bark and stone, refusing to feel any more pain.
Her faded t-shirt hugged her protruding ribs as she held on, hunched in silence.
A lone tear followed the lumpy tracks down her cheek, jumped from her quivering jaw onto a thirsty browned leaf with a thunderous plop.
Then the screen door squeaked open and she took flight.
Crispy twigs snapped beneath her bare feet as she ran deeper and deeper into the woods behind the house. She heard him rumbling and calling her name, his voice fueling her tired muscles to go faster, to survive.
He knew her path by now. He was ready for the hunt.
The clanging unbuckled belt boomed in her ears as he gained on her.
The woods were thin this time of year, not much to hide behind. If she couldn't outrun him, up she would go.
Young trees teased her in this direction, so she moved east towards the evergreens.
Hunger and hurt left her no choice, she had to stop running soon.
She grabbed the first tree with a branch low enough to reach, and up she went.
The pine trees were taller here, older, but the branches were too far apart for her to reach. She chose the wrong tree.
His footsteps pounded close by.
She stood as tall as her little legs could, her bloodied fingers reaching, stretching, to no avail. A cry of defeat slipped from her lips, a knowing laugh barked from his.
She would pay for this dearly. She didn't know whether the price was more than she could bear. Her eyes closed, her next breath came out as Please, and an inky hand reached down from the lush needles above, wound its many fingers around hers, and pulled her up.
Another hand, then another, grabbing her arms, her legs, firmly but gently, pulling her up, up, up. The rush of green pine needles and black limbs blurred together, then a flash of cobalt blue fluttered by, heading down.
She looked beyond her dangling bare feet to see a flock of peculiar birds settle on the branches below her, their glossy feathers flickered at once and changed to the same greens and grays of the tree they perched upon, camouflaging her ascension.
Her father's footsteps below came to a stomping end, and she knew he was listening for her. Tracking her, trapping her, like he did the other beasts of the forest.
He called her name once, twice. The third time's tone not quite as friendly.
The familiar slide–click sound of him readying his gun made her flinch before he had his chance to shoot at the sky. A warning. He wasn't done with her.
His feet crunched in circles around the tree, eventually heading back home.
Finally, she exhaled and looked up. Dozens of golden-eyed creatures surrounded her from above. Covered in indigo pelts, with long limbs tipped with mint-colored claws, they seemed to move as one, like a heartbeat. As if they shared a pulse, a train of thought, a common sense.
"Thank you," she whispered, and the beasts moved in a wave to carefully place her on a thick branch."
— 5 likes
"She stared at the faded tile floor before her feet, but knew his every step around her small kitchen. When Martin touched the coffee cup patterned curtains he must assume she'd made, her fingers throbbed. When his eyes slid across the flowery aluminum water bottle at the table, her throat cracked with thirst.

The radio clicked off.

The silence of the room soaked up her raspy breaths, her pounding heart, her ache, and stirred them around the one man she ever longed for in a way that changes how you taste the world.

Her desire swirled in a pulsing, betraying, blurry hook, and encouraged him to move closer.

Martin obeyed."
— 0 likes
More quotes…