Goodreads helps you keep track of books you want to read.
Start by marking "Totem Poles and Railroads" as Want to Read: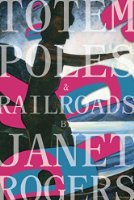 Totem Poles and Railroads
Totem Poles and Railroads succinctly defines the 500-year-old relationship between Indigenous nations and the corporation of Canada. In this, her fifth poetry collection, Janet Rogers expands on that definition with a playful, culturally powerful and, at times, experimental voice. She pays honour to her poetic characters—real and imagined, historical and present day—from S
...more
Published November 2016 by Arbeiter Ring Publishing (ARP)
Librarian's Note: There are multiple authors on Goodreads named Janet Rogers.