Goodreads helps you keep track of books you want to read.
Start by marking "The Fall of the House of Usher and Other Tales" as Want to Read:
Read Book*
*Different edition
The Fall of the House of Usher and Other Tales
The eerie tales of Edgar Allan Poe, from the 1830s and 40s, remain among the most brilliant and influential works in American literature. Some of the celebrated tales contained in this unique volume include the world's first detective stories -- "The Murders in the Rue Morgue" and "The Purloined Letter", and three stories sure to make a reader's hair stand on end -- "The C
...more
Published April 1st 1998 by Signet Classics (first published 1849)
The name Poe brings to mind images of murderers and madmen, premature burials, and mysterious women who return from the dead. His works have been in print since 1827 and include such literary classics as The Tell-Tale Heart, The Raven, and The Fall of the House of Usher. This versatile writer's oeuvre includes short stories, poetry, a novel, a textbook, a book of scientific theory, and hundreds of
...more
Related Articles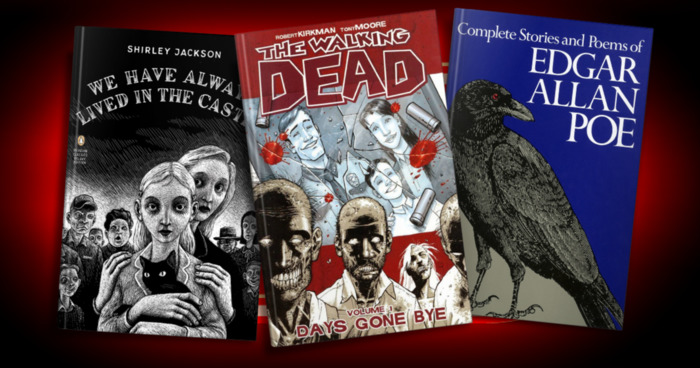 "Horror fiction has traditionally dealt in taboo.… It makes monsters of household pets and begs our affection for psychos. It...
"During the whole of a dull, dark, and soundless day in the autumn of the year, when the clouds hung oppressively low in the heavens, I had been passing alone, on horseback, through a singularly dreary tract of country; and at length found myself, as the shades of the evening drew on, within view of the melancholy House of Usher. I know not how it was--but, with the first glimpse of the building, a sense of insufferable gloom pervaded my spirit. I say insufferable; for the feeling was unrelieved by any of that half-pleasureable, because poetic, sentiment, with which the mind usually receives even the sternest natural images of the desolate or terrible. I looked upon the scene before me--upon the mere house, and the simple landscape features of the domain--upon the bleak walls--upon the vacant eye-like windows--upon a few rank sedges--and upon a few white trunks of decayed trees--with an utter depression of soul which I can compare to no earthly sensation more properly than to the after-dream of the reveller upon opium--the bitter lapse into everyday life--the hideous dropping off of the veil. There was an iciness, a sinking, a sickening of the heart--an unredeemed dreariness of thought which no goading of the imagination could torture into aught of the sublime."
— 71 likes
"They who dream by day are cognizant of many things which escape those who dream only by night. In their grey visions they obtain glimpses of eternity, and thrill, in awaking, to find that they have been upon the verge of the great secret. In snatches, they learn something of the wisdom which i of good, and more of the mere knowledge which is of evil."
— 17 likes
More quotes…