Goodreads helps you keep track of books you want to read.
Start by marking "More Than a Carpenter" as Want to Read: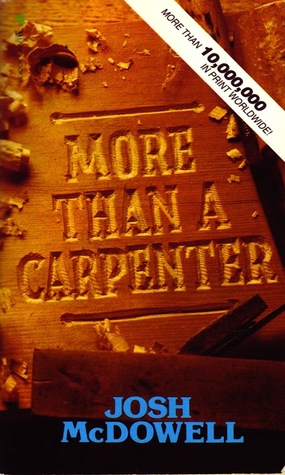 More Than a Carpenter
In "More Than a Carpenter" Josh focuses upon the person who changed his life - Jesus Christ. It is a hard-headed book for people who are skeptical about Jesus' deity, his resurrection, his claims on their lives.
Published May 12th 1980 by Tyndale House Publishers (first published 1977)
As a young man, Josh McDowell considered himself an agnostic. He truly believed that Christianity was worthless. However, when challenged to intellectually examine the claims of Christianity, Josh discovered compelling, overwhelming evidence for the reliability of the Christian faith. After trusting in Jesus Christ as Savior and Lord, Josh's life changed dramatically as he experienced the power of
...more
More about Josh McDowell...
"Christianity is not a religion. Religion is humans trying to work their way to God through good works. Christianity is God coming to men and women through Jesus Christ."
— 6 likes
"The words Jesus Christ are not a first and last name; they are actually a name and a title. The name Jesus is derived from the Greek form of the name Jeshua or Joshua, meaning "Jehovah-Savior" or "the Lord saves." The title Christ is derived from the Greek word for Messiah (or the Hebrew Mashiach, see Daniel 9:26) and means "anointed one."
— 4 likes
More quotes…