Goodreads helps you keep track of books you want to read.
Start by marking "Tales from Outer Suburbia" as Want to Read:
Tales from Outer Suburbia
Breathtakingly illustrated and hauntingly written, Tales from Outer Suburbia is by turns hilarious and poignant, perceptive and goofy. Through a series of captivating and sophisticated illustrated stories, Tan explores the precious strangeness of our existence. He gives us a portrait of modern suburban existence filtered through a wickedly Monty Pythonesque lens. Whether i
...more
Published October 28th 2008 by McClelland & Stewart (first published 2008)
Shaun Tan (born 1974) is the illustrator and author of award-winning children's books. After freelancing for some years from a studio at Mt. Lawley, Tan relocated to Melbourne, Victoria in 2007. Tan was the Illustrator in Residence at the University of Melbourne's Department of Language Literacy and Arts Education for two weeks through an annual Fellowship offered by the May Gibbs Children's Liter
...more
News & Interviews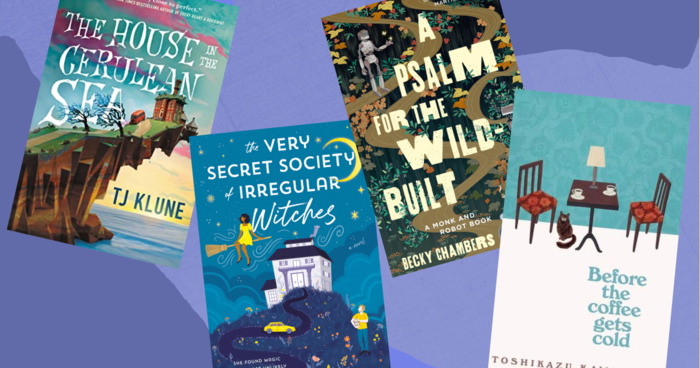 Here at Goodreads World Headquarters, we're always on alert for any shifts in readerly attention that we can spot. Recently we've noticed a...
"Have you ever wondered
What happens to all the
poems people write?
The poems they never
let anyone else read?
Perhaps they are
Too private and personal

Perhaps they are just not good enough.

Perhaps the prospect
of such a heartfelt
expression being seen as
clumsy
shallow silly
pretentious saccharine
unoriginal sentimental
trite boring
overwrought obscure stupid
pointless
or
simply embarrassing

is enough to give any aspiring
poet good reason to
hide their work from
public view.

forever.

Naturally many poems are IMMEDIATELY DESTROYED.
Burnt shredded flushed away
Occasionally they are folded
Into little squares
And wedged under the corner of
An unstable piece of furniture
(So actually quite useful)

Others are
hidden behind
a loose brick
or drainpipe
or
sealed into
the back of an
old alarm clock
or
put between the pages of
AN OBSCURE BOOK
that is unlikely
to ever be opened.

someone might find them one day,
BUT PROBABLY NOT
The truth is that unread poetry
Will almost always be just that.
DOOMED
to join a vast invisible river
of waste that flows out of suburbia.

well
Almost always.

On rare occasions,
Some especially insistent
pieces of writing will escape
into a backyard
or a laneway
be blown along
a roadside embankment
and finally come
to rest in a
shopping center
parking lot

as so many
things do

It is here that
something quite
Remarkable
takes place

two or more pieces of poetry
drift toward each other
through a strange
force of attraction
unknown
to science
and ever so slowly
cling together
to form a tiny,
shapeless ball.

Left undisturbed,
this ball gradually
becomes larger and rounder as other
free verses
confessions secrets
stray musings wishes and unsent
love letters
attach themselves
one by one.

Such a ball creeps
through the streets
Like a tumbleweed
for months even years

If it comes out only at night it has a good
Chance of surviving traffic and children
and through a
slow rolling motion
AVOIDS SNAILS
(its number one predator)

At a certain size, it instinctively
shelters from bad weather, unnoticed
but otherwise roams the streets
searching
for scraps
of forgotten
thought and feeling.

Given
time and luck
the poetry ball becomes
large HUGE ENORMOUS:
A vast accumulation of papery bits
That ultimately takes to the air, levitating by
The sheer force of so much unspoken emotion.
It floats gently
above suburban rooftops
when everybody is asleep
inspiring lonely dogs
to bark in the middle
of the night.

Sadly
a big ball of paper
no matter how large and
buoyant, is still a fragile thing.

Sooner or
LATER
it will be surprised by
a sudden
gust of wind
Beaten by
driving rain
and
REDUCED
in a matter
of minutes
to
a billion
soggy
shreds.

One morning
everyone will wake up
to find a pulpy mess
covering front lawns
clogging up gutters
and plastering car
windscreens.

Traffic will be delayed
children delighted
adults baffled
unable to figure out
where it all came from

Stranger still
Will be the
Discovery that
Every lump of
Wet paper
Contains various
faded words pressed into accidental
verse.

Barely visible
but undeniably present
To each reader
they will whisper
something different
something joyful
something sad
truthful absurd
hilarious profound and perfect
No one will be able to explain the
Strange feeling of weightlessness
or the private smile
that remains
Long after the street sweepers
have come and gone."
— 30 likes
"It's funny how these days, when every household has its own inter-continental ballistic missile, you hardly even think about them. . . . A lot of us, though, have started painting the missiles different colors, even decorating them with our own designs, like butterflies or stenciled flowers. They take up so much space in the backyard, they might as well look nice, and the government leaflets don't say that you have to use the paint they supply."
— 18 likes
More quotes…