Goodreads helps you keep track of books you want to read.
Start by marking "Beneath the Sugar Sky (Wayward Children, #3)" as Want to Read: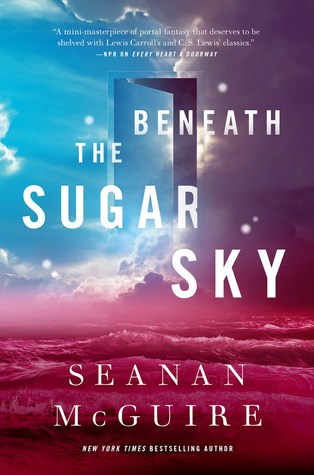 Beneath the Sugar Sky returns to Eleanor West's Home for Wayward Children. At this magical boarding school, children who have experienced fantasy adventures are reintroduced to the "real" world.

Sumi died years before her prophesied daughter Rini could be born. Rini was born anyway, and now she's trying to bring her mother back from a world without magic.
Published January 9th 2018 by tor.com
Hi! I'm Seanan McGuire, author of the Toby Daye series (Rosemary and Rue, A Local Habitation, An Artificial Night, Late Eclipses), as well as a lot of other things. I'm also Mira Grant (www.miragrant.com), author of Feed and Deadline.

Born and raised in Northern California, I fear weather and am remarkably laid-back about rattlesnakes. I watch too many horror movies, read too many comic books, and
...more
More about Seanan McGuire
Other books in the series
Fantasy & Science Fiction Deals
"There is kindness in the world, if we know how to look for it. If we never start denying it the door."
— 21 likes
"Children have always tumbled down rabbit holes, fallen through mirrors, been swept away by unseasonal floods or carried off by tornadoes. Children have always traveled, and because they are young and bright and full of contradictions, they haven't always restricted their travel to the possible. Adulthood brings limitations like gravity and linear space and the idea that bedtime is a real thing, and not an artificially imposed curfew. Adults can still tumble down rabbit holes and into enchanted wardrobes, but it happens less and less with every year they live. Maybe this is a natural consequence of living in a world where being careful is a necessary survival trait, where logic wears away the potential for something bigger and better than the obvious. Childhood melts, and flights of fancy are replaced by rules. Tornados kill people: they don't carry them off to magical worlds. Talking foxes are a sign of fever, not guides sent to start some grand adventure.
But children, ah, children. Children follow the foxes, and open the wardrobes, and peek beneath the bridge. Children climb the walls and fall down the wells and run the razor's edge of possibility until sometimes, just sometimes, the possible surrenders and shows them the way to go home."
— 17 likes
More quotes…