Goodreads helps you keep track of books you want to read.
Start by marking "Playing the Part (A Class of Their Own, #3)" as Want to Read:
Playing the Part
Lucetta Plum is an actress on the rise in New York City, but is forced to abandon her starring role when a fan's interest turns threatening. Lucinda's widowed friend, Abigail Hart, is delighted at the opportunity to meddle in Lucetta's life and promptly whisks her away to her grandson's estate to hide out.

Bram Haverstein may appear to simply be a somewhat eccentric
...more
Published March 1st 2016 by Bethany House Publishers (first published February 2016)
Jen Turano is a graduate of the University of Akron with a degree in Clothing and Textiles. She pursued a career in management for nine years before switching to full-time motherhood after the birth of her son. When she's not writing, Jen can be found watching her teenage son participate in various activities, taking long walks with her husband and dog, socializing with friends, or delving into a
...more
Other books in the series
Related Articles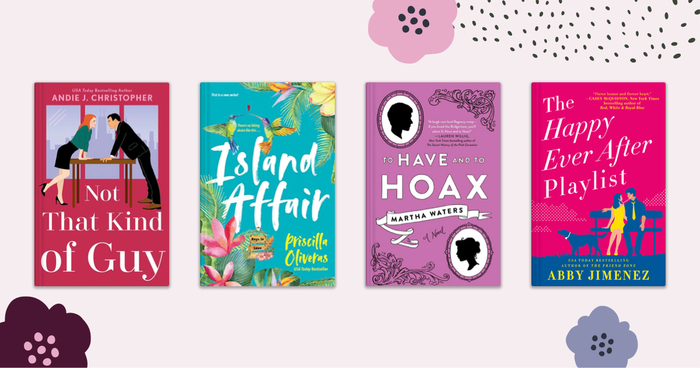 Some people love books. Some people fall in love. And some people fall in love with books about falling in love. Every month our team sorts thro...
"Taking hold of the ladder, she began to climb, stopping when she got to eye level with him. That, however, turned out to be a mistake, because the moment her eyes met his, she forgot everything—even the lines she'd just committed to memory—because nothing else mattered to her except . . . him. "You wrote a scene with a strong heroine in it, and one where the hero gets dangled by his feet." "I did." "Why?" "Because I couldn't figure out a better way to let you know I love you, the real you, without dangling from my feet and letting you cut me down." Lucetta's eyes immediately took to turning a little misty. "You . . . love me?" "I do, but before we continue this, I have to admit that hanging upside down is far less pleasant than I imagined, so if you'd be so kind, I really do need you to get me down from here." Realizing he was completely serious, but also realizing if she cut him down he'd go plummeting to the hard floor and most likely suffer a horrible injury—which certainly wouldn't have the night turning out well at all—Lucetta looked to the side of the stage and caught Mr. Skukman's eye. As he, along with a good number of backstage hands, walked across the boards, whispers began circulating around the theater, growing louder after Bram got released and rose to his feet. Smiling ever so charmingly at the audience, he presented them with a small bow right before he took center stage. "Ladies and gentlemen, I must beg your indulgence for just a few more minutes because you see . . . I am . . . Mr. Grimstone." The whispers ceased immediately. Bram smiled. "I'm Mr. Grimstone, alias Mr. Bram Haverstein, and I've come here tonight, with all of you as my witnesses, to proclaim my love for Miss Lucetta Plum, and . . ." He dropped to one knee. "Ask her to do me the very great honor of becoming my wife." He reached out and took hold of Lucetta's hand. "Miss Lucetta Plum, I am completely and irrevocably in love with you, and just so we're clear, I'm in love with the real you, not the person you turn into when you take to the stage. I love the idea that you're completely oblivious to your unusual beauty, can outrun a goat, and . . . you fascinate me as no one ever has. I'm asking you, in front of all of these people who will probably never buy another one of my books again if you turn me down . . ." He stopped talking and turned his head to the audience. "And just to remind everyone, I will have another novel releasing soon, although I haven't decided on a title just yet, something about a strong-willed lady, no doubt, or . . ." "You're getting distracted," Lucetta interrupted. Bram immediately returned his gaze to hers. "Quite right, but . . . I've lost my train of thought." "You were just about to the part where you were going to ask her to marry you," a voice called out, a voice that sounded remarkably like Abigail's. "Thank you, Grandmother," he called back. "You're welcome, darling. And just to remind you, I'm not getting any younger, so you might want to hurry this proposal business along." Grinning, Bram shook his head, brought Lucetta's fingers to his lips, and then sobered as he held her gaze. "I love you, Lucetta, more than I ever imagined I could, and I would be so incredibly honored if you'd agree to be my wife." For a second, Lucetta was unable to answer him because her heart had taken to rising in her throat, but after drawing in a deep breath, she managed to nod, ignoring the tears that had filled her eyes and were blurring her vision. "I would be honored to become your wife, especially since—I'm not sure when this happened, but—I'm in love with you as well." Bram's hold on her hand tightened for just a second, and then he was sliding a ring on her finger she hadn't even realized he'd been holding. Before she could take even a second to admire what felt like an enormous rock on her hand, he was standing instead of kneeling, looking intently into her eyes, before he pulled her into his arms and kissed her. The"
— 1 likes
"Leave . . . town? Really, Mr. Skukman, that might be taking matters a bit far. Why, the social season has just begun, and ticket sales have been quite brisk. Besides that, everyone knows that Mr. Grimstone, that oh-so-mysterious playwright of The Lady in the Tower, specifically requested that I play the part of the lead heroine. He's certainly not going to be pleased if I abandon the role before the season gets into full swing. Why, he, as well as the theater, could suffer extensive losses." "Losses or not, Mr. Grimstone will have no say in this, Miss Plum. Quite honestly, given his obvious esteem for you and your acting abilities, I have to imagine he'd prefer to find out you've gone missing over finding out you've stopped breathing." "Silas doesn't want to kill me, Mr. Skukman. He wants to acquire me." "You and I both know you'd never allow him to acquire you, and from what I just saw down in the lobby, the man seems to be on the verge of losing his sanity. There's a look in his eyes I don't care for at all, which is why we're going to get you into a hansom cab and on your way to Mrs. Hart's brownstone. Once you're there, I need you to pack as quickly as possible. I'll be around to fetch you just as soon as I'm able." "You want me to hire a cab instead of traveling to Abigail's in my own carriage?" "Indeed. It's not a complete secret that you now live with Mrs. Hart, which means it won't be too difficult for Silas to discover your direction after he learns you no longer reside in the Lower East Side. I'm going to try and feed him a false trail that will hopefully allow us precious time to get away." Before Lucetta had an opportunity to voice another protest, she found herself sitting in a musty smelling hansom cab, barreling down Broadway at a high rate of speed, the speed brought about from the extra money she'd seen Mr. Skukman hand the driver. Feeling"
— 1 likes
More quotes…