Goodreads helps you keep track of books you want to read.
Start by marking "Spellbound (Warlocks MacGregor, #2)" as Want to Read:
Spellbound
Let Sleeping Warlocks Lie...

Iain MacGregor knows how his warlock family feels about outsiders discovering the truth of their powers, its forbidden. That doesn't seem to stop him from having accidental magickal discharges whenever he's around the woman who has captured his attention. Apparently his magick and other "parts" don't seem to care what the rules are, or that the
...more
Published July 7th 2015 by The Raven Books (first published July 6th 2015)
New York Times & USA Today Bestselling Author of Romances, Cozy Mysteries, and PWF (Paranormal Women's Fiction)
www.MichellePillow.com

Michelle loves to travel and try new things, whether it's a paranormal investigation of an old Vaudeville Theatre or climbing Mayan temples in Belize. She believes life is an adventure fueled by copious amounts of coffee.

Newly relocated to the American South, Michell
...more
Other books in the series
News & Interviews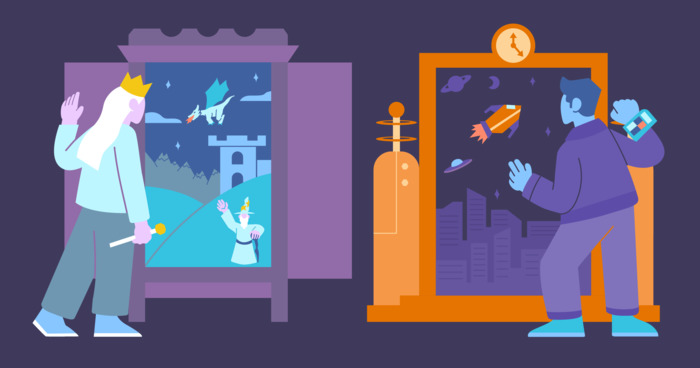 Science fiction and fantasy have spawned some of the most imaginative plots and settings in existence. Makes sense, given that these genres are...
"Iain MacGregor," she whispered longingly, looking up. The woods were quiet. Strips of moonlight shone through tree limbs that reached like surreal black fingertips across her vision. A single tear slid down her cheek. She touched her mouth, imagining his kiss.
Taking a small pocket knife out of her cargo pants, she looked about. A mystic had once told her that if she left pieces of herself around while she lived, it would expand her haunting territory when she died. Jane wasn't sure she believed in sideshow magic tricks—or the Old Magick as the mystic had spelled it on her sign. She had no idea what had possessed her to talk to the palm reader and ask about ghosts. Still, just in case, she was leaving her stamp all over the woods.
She cut her palm and pressed it to a nearby tree under a branch. Holding the wound to the rough bark stung at first, but then it made her feel better. This forest wouldn't be a bad eternity.
The sound of running feet erupted behind her and she stiffened. No one ever came out here at night. She'd walked the woods hundreds of times. Her mind instantly went to the creepy girl ghosts chanting by the stream.
"Whoohoo!"
Jane whipped around, startled as a streak of naked flesh sprinted past her. The Scottish voice was met with loud cheers from those who followed him. "Water's this way, lads, or my name isn't Raibeart MacGregor, King of the Highlands!"
Another naked man dashed through the forest after him. "It smells of freedom."
Jane stayed hidden in the branches, undetected, with her hand pressed to the bark.
"Aye, freedom from your proper Cait," Raibeart answered, his voice coming through the dark where he'd disappeared into the trees.
"Murdoch, stop him before he reaches town. Cait will not teleport ya out of jail again," a third man yelled, not running quite so fast. "Raibeart, ya are goin' the wrong way!"
"Och, Angus, my Cait canna live without me," Murdoch, the second streaker, answered. "She'll always come to my rescue."
"I said stop him, Murdoch, we're new to this place." Angus skidded to a stop and lifted his jaw, as if sensing he was being watched. He looked in her direction and instantly covered his manhood as his eyes caught Jane's shocked face in the tree limbs. "Oh, lassie."
"Oh, naked man," Jane teased before she could stop herself.
"That I am," Angus answered, "but there is an explanation for it."
"I don't think some things need explained," Jane said."
— 2 likes
"Lydia Barratt, "táim in grá leat." Erik took a knee. "Say ya will marry me lassie."
— 1 likes
More quotes…