Goodreads helps you keep track of books you want to read.
Start by marking "Shadows of Ladenbrooke Manor" as Want to Read:
Shadows of Ladenbrooke Manor
When Heather Toulson returns to her parents cottage in the English countryside, she uncovers long-hidden secrets about her family history and stumbles onto the truth about a sixty-year-old murder.

Libby, a free spirit who can't be tamed by her parents, finds solace with her neighbor Oliver, the son of Lord Croft of Ladenbrooke Manor. Libby finds herself pregnant and alone
...more
Published June 16th 2015 by Howard Books (first published May 5th 2015)
Writing fiction is a fun excuse for Melanie to explore ghost towns and old houses, travel to unusual places, and spend hours reading dusty books and journals. She writes both contemporary and historical fiction with threads of romance and suspense.

Melanie is the award-winning author of almost twenty time-slip, historical romance, suspense, and contemporary novels including Catching the Wind, The
...more
Related Articles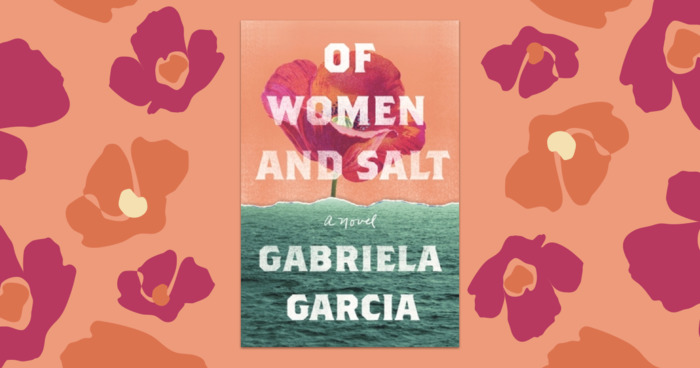 Of Women and Salt, the debut novel by Gabriela Garcia, has the feel of a sweeping family saga that's hard to reconcile with the fact that it's...
"Autumn Dancer flutters among the flowers, chasing the last rays of sunlight until her haven is swallowed up by the night. Her sisters are asleep now, hidden under the fronds, but she doesn't care. She dances alone in the twilight, embracing the warmth of the golden hour, her wings sweeping past silky petals of the late summer blooms. In the safe cocoon of her garden, she dares believe that no harm will ever enter the gates. This is her world of beauty and peace, of sweet nectar and life, completely unspoiled by the footsteps of danger or the silent mockery of time."
— 2 likes
"Quickly she shredded the cabbage on the chopping block and tossed it along with the onion and tomatoes in a blue Pyrex bowl. Then she slid the lamb chops, encrusted with fresh rosemary, into the oven.
While the lamb baked, she brushed her hair in the washroom and pinned it back again. Then she zipped on a silk floral dress she'd purchased in Bristol and retrieved her grandmother's rhinestone necklace, one of the few family heirlooms her mother packed for her, to clasp around her neck.
At the foot of the bed was the antique trunk she'd brought from her childhood home in Balham more than a decade ago. Opening the trunk, she removed her wedding album along with her treasured copy of 'The Secret Garden' and the tubes of watercolors her father had sent with her and her brother. Her father hoped she would spend time painting on the coast, but Maggie hadn't inherited his talent or passion for art. Sometimes she wondered if Edmund would have become an artist.
Carefully she took out her newest treasures- pieces of crystal she and Walter hd received as wedding presents, protected by pages and pages of her husband's newspaper. She unwrapped the crystal and two silver candlesticks, then set them on the white-cloaked dining table. She arranged the candlesticks alongside a small silver bowl filled with mint jelly and a basket with sliced whole-meal bread from the bakery. After placing white, tapered candles into the candlesticks, she lit them and stepped back to admire her handiwork.
Satisfied, she blew them out. Once she heard Walter at the door, she'd quickly relight the candles.
When the timer chimed, she removed the lamb chops and turned off the oven, placing the pan on her stovetop and covering it with foil. She'd learned a lot about housekeeping in the past decade, and now she was determined to learn how to be the best wife to Walter. And a doting mother to their children.
If only she could avoid the whispers from her aunt's friends."
— 1 likes
More quotes…