Goodreads helps you keep track of books you want to read.
Start by marking "The Churn (Expanse, #0.2)" as Want to Read:
The Churn
From New York Times bestselling author James S.A. Corey...
Before his trip to the stars, before the Rocinante, Amos Burton's was confined to a Baltimore where crime paid you or killed you. Unless the authorities got to you first.

Set in the hard-scrabble solar system of Leviathan Wakes, Caliban's War, Abaddon's Gate and the upcoming Cibola Burn, Beloved of Broken Things
...more
Published April 29th 2014 by Orbit
Other books in the series
Related Articles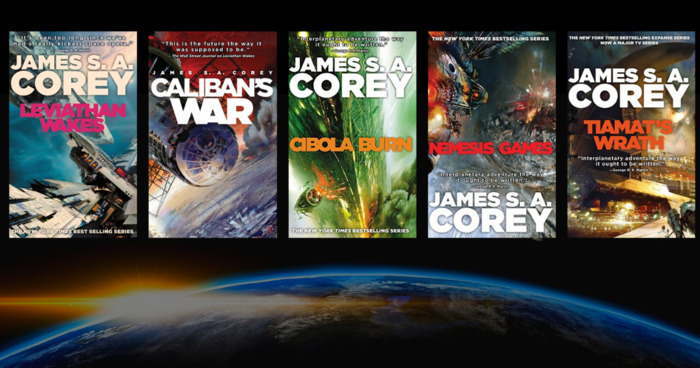 You probably know coauthors Daniel Abraham and Ty Franck as James S.A. Corey—their shared pen name. And you probably know them from their wildly po...
"Liev Andropoulous!" the boy shouted. "You are under arrest for racketeering, slavery, and murder! You are not required to participate in questioning without the presence of an attorney or union representative!" Tiny flecks of spittle dotted the inside of the face shield. The boy's wide eyes were almost jittering with fear. Liev sighed. "Ask me," he said slowly, enunciating very clearly, "if I understand." "What?" the boy shouted. "You've told me the charges and made the questioning statement. Now you have to ask me if I understand." "Do you understand?" the boy barked, and Liev nodded. "Good. Better," Liev said. "Now go fuck yourself."
— 2 likes
"Will you be back?" Lydia said. She hadn't meant to, because she knew in her heart, in her bones, and deeper than that what the answer was. Timmy smiled at her for the last time. I take it back, she thought. Kill him. Kill the boy. Kill everyone else in the world. Shoot babies in the head and dance on their bodies. Any atrocity, any evil, is justified if it keeps you from leaving me."
— 1 likes
More quotes…