Goodreads helps you keep track of books you want to read.
Start by marking "Half Magic (Tales of Magic, #1)" as Want to Read: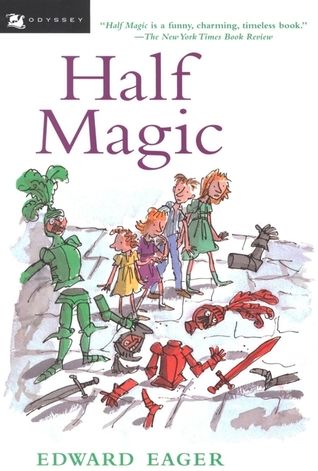 Half Magic
Four children wish on a Half Magic coin that gets their mother Alison half-way home, rescued by Mr Smith. Mark's wish zaps them to a desert without island, where half-talking cat Carrie gabbles to a camel. Romantic Katherine battles Launcelot. Eldest Jane rejects siblings for another family. Stubborn youngest, Martha, causes a riot downtown.
Published March 31st 1999 by Harcourt Odyssey (first published 1954)
Eager was born in and grew up in Toledo, Ohio and attended Harvard University, class of 1935. After graduation, he moved to New York City, where he lived for 14 years before moving to Connecticut. He married Jane Eberly in 1938 and they had a son, Fritz.

Eager was a childhood fan of L. Frank Baum's Oz series, and started writing children's books when he could not find stories he wanted to read to
...more
Other books in the series
"Still, even without the country or a lake, the summer was a fine thing, particularly when you were at the beginning of it, looking ahead into it. There would be months of beautifully long, empty days, and each other to play with, and the books from the library."
— 25 likes
"In the summer you could take out ten books at a time, instead of three, and keep them a month, instead of two weeks. Of course you could take only four of the fiction books, which were the best, but Jane liked plays and they were nonfiction, and Katharine liked poetry and that was nonfiction, and Martha was still the age for picture books, and they didn't count as fiction but were often nearly as good. Mark hadn't found out yet what kind of nonfiction he liked, but he was still trying. Each month he would carry home his ten books and read the four good fiction ones in the first four days, and then read one page each from the other six, and then give up. Next month he would take them back and try again. The nonfiction books he tried were mostly called things like "When I was a Boy in Greece," or "Happy Days on the Prairie"—things that made them sound like stories, only they weren't. They made Mark furious. "It's being made to learn things not on purpose. It's unfair," he said. "It's sly." Unfairness and slyness the four children hated above all."
— 3 likes
More quotes…